Hi, my name is Veron and I am a Ben & Jerry's ice cream addict.
In this Ben & Jerry's Flavour of the Month series, a different ice cream flavour would be featured on Sparklette every month through 2011. My pick for January was Half Baked, which I enjoyed so much that I went out to get another pint! In addition, I also picked up a couple more flavours that are named after famous cities.
My Ben & Jerry's flavour of the month for February is Dublin Mudslide. Can you guess what the other city-inspired flavour is? (Answer: In the photo below)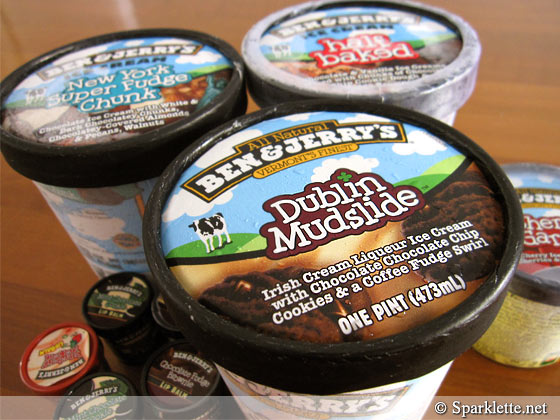 Fun activity: Count the number of Ben & Jerry's ice cream tubs in this picture!
Dublin Mudslide
S$14.90 a pint
Rating:





Dublin Mudslide is named after the drink, and has chocolate and cream as well as trace amounts of Irish cream liqueur and coffee. The ice cream is coloured in inviting shades of brown swirled with yummy coffee fudge. You can definitely taste the coffee, although fans of liquor ice cream may be disappointed to know that the liqueur is hardly detectable. There is just a smidgen of it – 0.2 grams of alcohol per 1/2 cup serving (or 0.19% per 102 gram serving).
In my opinion, what makes Ben & Jerry's ice cream especially special and decadent are the chunky bits. And this pint is no let-down. The generously proportioned globs of chocolate chocolate chip cookies are what escalate Dublin Mudslide from a 3 to a 4 rating.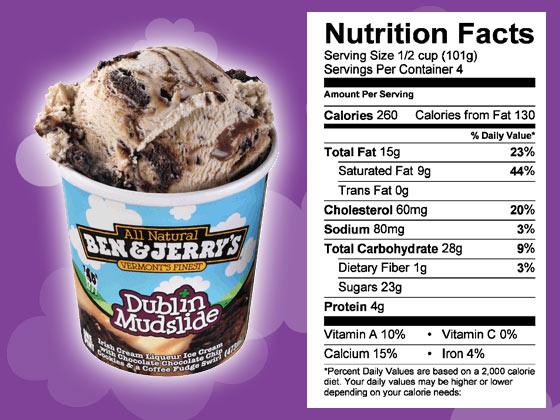 Ingredients: Cream, Skim Milk, Liquid Sugar, Water, Sugar, Unbleached Wheat Flour, Egg Yolks, Expeller Pressed Soybean Oil, Irish Cream Liqueur, Brown Sugar, Cocoa (Processed With Alkali), Chocolate Liquor, Butter, Corn Syrup, Coffee, Guar Gum, Cocoa Butter, Anhydrous Dextrose, Salt, Vanilla Extract, Cocoa Extract, Natural Flavour, Baking Soda, Carob Bean Gum, Xanthan Gum, Carrageenan, Soya Lecithin
Have Your Say!

Loading ...
How many more food and drinks can you think of that have cities in their names? Tell us now!
Ben & Jerry's
Available at all scoop shops and major supermarkets
Website