First, there were the traditional baked skin mooncakes. Then came the colourful snowskin mooncakes. And now, we even have mousse mooncakes. If you are shopping for mooncakes this season and can't quite decide which ones to go for, head to your nearest Crystal Jade restaurant or My Bread bakery. With a staggering 28 types of mooncakes available, surely you would find something you like!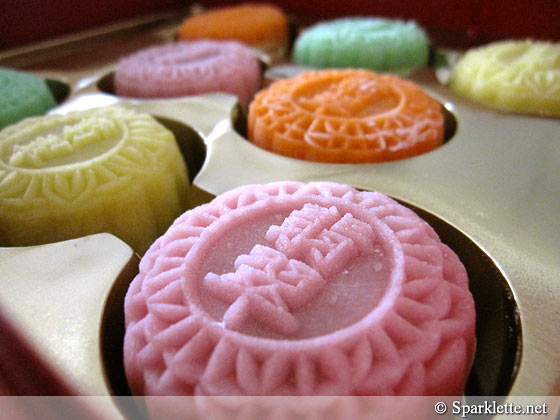 Unboxing the mooncakes
The mooncakes are packaged in a hardy cardboard box with a frills-free design.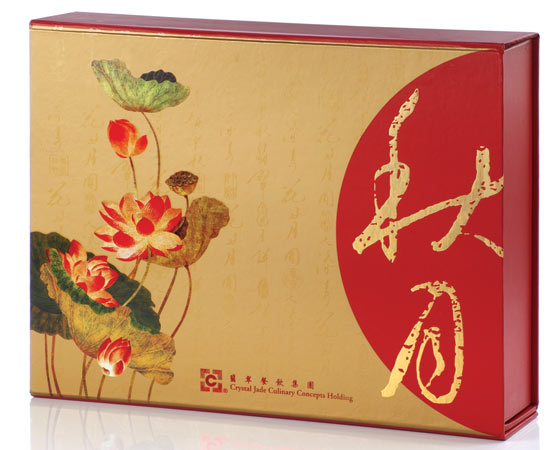 Lift the lid on the box and you would see the gold internal casing. A knife has been thoughtfully packaged within. It may be just a simple plastic knife, but I find that it certainly adds much convenience. Each time you want to try any of these colourful treats, you can cut yourself a slice straight away without the hassle of finding a knife!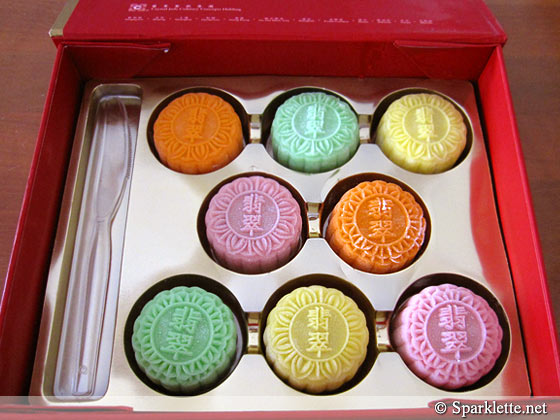 Mini snowskin mooncakes
If you prefer the petite and delicate snowskin mooncakes, the set of 8 mini mooncakes would please you. This comes with 4 assorted flavours:
– White lotus with salted egg yolk
– Pandan bean paste
– Tangerine
– Cranberry
No prizes for guessing correctly which colour goes with each flavour!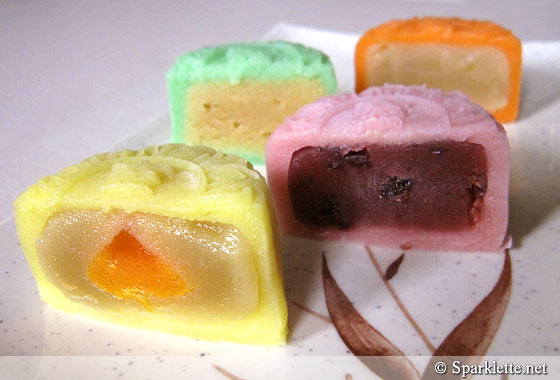 Snowskin mooncakes
S$36 for a box of 8 (4 assorted flavours)
Rating:





The toothsome snowskin casing wraps around a thick lotus or bean paste filling. The cranberry mooncake has actual chunks of the fruit in the paste. The only gripe I have is that it is too sweet for my liking. In the white lotus mooncake, the moist salted yolk helps tone down the overall sweetness. My favourites are the Pandan – just a hint of the Pandan fragrance in the green bean paste – and tangerine – fruit-laced snowskin with a refreshing aroma.
Flavour wise, these mooncakes may not be as inventive as the floral mooncakes or the champagne truffle mooncakes, but they are still yummy.
Mousse western mooncakes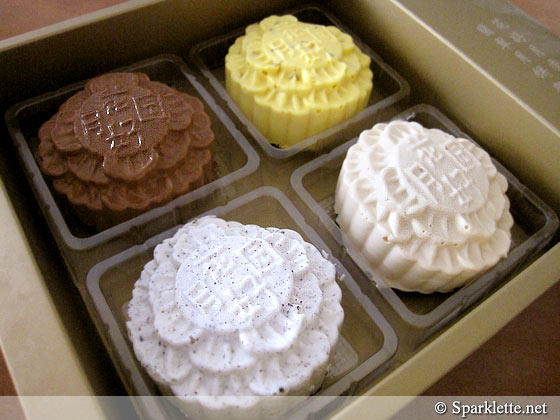 Mousse western mooncakes
S$21 for a box of 4 assorted flavours
Rating:





A cool twist comes in the form of the western mousse mooncakes. These babies made it to my top 12 picks this Mid-Autumn Festival, and are available in 4 chilled flavours:
– Mango with Nata de Coco
– Chocolate with marshmallow
– Hazelnut
– Oreo and cheese
Fret not if you want to enjoy these mooncakes individually; the My Bread outlets sell them at S$5.50 apiece.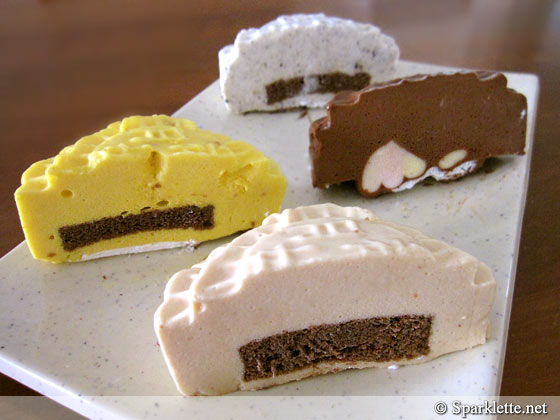 To allow you to easily remove these soft mooncakes from the plastic packaging, they are made with an additional layer of chocolate sponge cake at the base. (It's not noticeable from the photo because I have removed that portion. Otherwise the stubborn slices just wouldn't lie flat on the plate!)
The mousse is very dense and clearly a lot less sweet than the snowskin variety. Except for the chocolate flavour which has pieces of marshmallow embedded, all of them have a chocolate cake layer within. The best part is obviously the mousse, and you do get a lot of it.
My top pick from this range is no doubt the chocolate with marshmallow which is chocolaty rich enough to satisfy a 3-month-old chocolate craving itch! Imagine your favourite chocolate mousse dessert. This is ten times denser!
The scrumptious Oreo and cheese is similar to your typical Oreo cheesecake, minus the crumbs.
Traditional baked skin mooncakes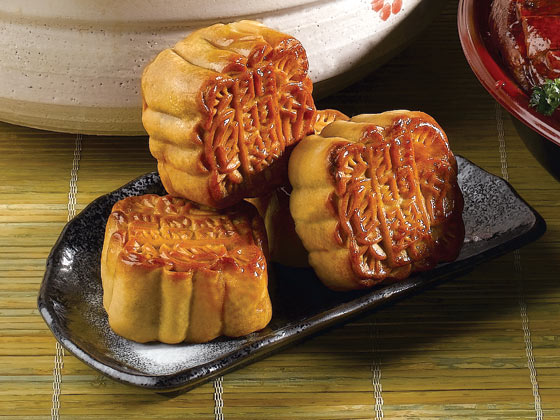 Quartet of Happiness traditional mooncakes
S$46 for a box of 4 assorted flavours
Rating:





For those of you who are fans of the old favourites, the classic mooncake has not been forgotten. The Quartet of Happiness comprises:
– Plain white lotus paste
– White lotus paste with double yolk
– Red lotus paste with double yolk
– Mixed nuts & ham
These traditional mooncakes are square-shaped and sport a thin and moist outer casing; you can tell when cutting into the cakes, few crumbs would drop. Unlike the snowskin family, the filling is not too overtly sweet.
If you are in search for decadent mooncakes this season, I would highly recommend the mousse mooncakes from Crystal Jade. They are my personal picks from the chain, and are guaranteed not to break the bank.
Have Your Say!

Loading ...
What mooncakes have you bought or are planning to buy this season? Share with us in the comments!
Crystal Jade
Tel: +65 6512 0800 |
Website