When I first heard about the KFC Portuguese egg tarts, I was quite skeptical. Skeptical, but curious enough to buy a half dozen of these to try out. Surprisingly, the tarts turn out much better than expected!
These creamy egg tart pastries are not to be confused with the traditional egg tarts which have a crumbly crust and an even yellow custard top. For Portuguese egg tarts, brown burn spots crater the caramelised surface (like crème brûlée). They first came about in Lisbon, Portugal, and are known there as pastéis de nata.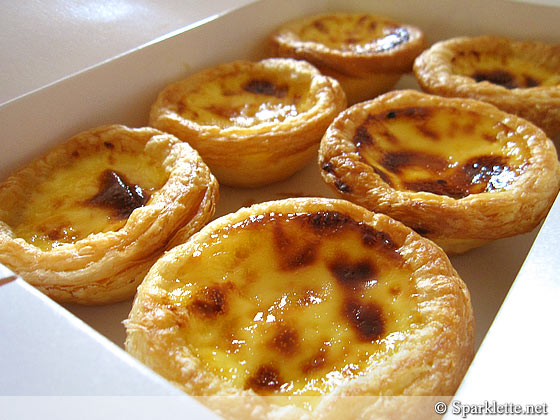 Portuguese egg tarts
S$1.30 each / S$7.50 for a box of 6
Rating:





The KFC egg tarts have a puffy pastry casing that is thick, but delightfully light and fluffy. Even hours later (I did have 6 of these to finish), the crust remains flakey and crispy.
While the custard is not as soft as Madeleine's egg tarts, it is still beautifully smooth. The egg flavour is quite apparent, tinged with the more subtle sweet taste of caramel.
I heard that these egg tarts are available in three flavours in KFC Taiwan. Can anyone confirm this?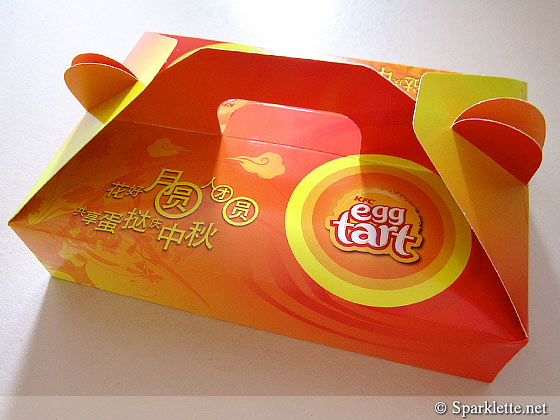 While you can purchase the egg tarts individually, a half dozen of this costs slightly less, and are packaged in a nice carrier box with a handle on top. From the Chinese characters on the box, it seems that these egg tarts are a Mid-Autumn Festival promotion. You can also have them home-delivered in boxes of 2.
I have never been a fan of KFC's fried chicken, preferring the likes of Arnold's and Popeyes. But their Portuguese egg tarts have certainly exceeded expectations!
The KFC egg tarts are available only at selected outlets. So before you go running off to the nearest outlet, do check to make sure that the tarts are sold there.
Update: Also check out my review of the KFC Mandarin orange egg tarts, available during Chinese New Year.
Have Your Say!
Which type of egg tart – Portuguese or the traditional – do you prefer? What is your favourite drink to go along with these tarts? Share with us in the comments!
KFC
(

Halal certified
)
Available at
selected outlets
Website