Isn't the Mid-Autumn Festival colourful? Year after year, hotels and restaurants create new mooncake flavours quicker than you can say champagne truffle mooncake. It's always fun to see what they whip up to please the diverse palates of Singaporeans.
Kia Hiang Restaurant, in particular, have been the first to introduce several innovative and exciting mooncake flavours. Chocolate, durian purée and bak kwa (sweet barbecued pork) are just a few ingredients that have crept into the mooncakes of this traditional yet innovative Chinese restaurant.
Intrigued?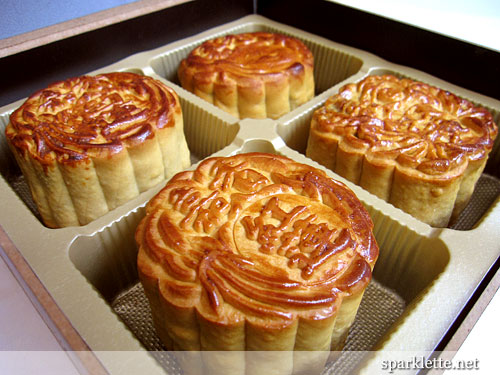 Classic lotus paste mooncakes (large)
Red lotus paste: $19 (2 pieces), $36 (4 pieces)
White lotus paste: $20 (2 pieces), $38 (4 pieces)
Double yolk, red lotus paste: $22 (2 pieces), $41 (4 pieces)
Double yolk, white lotus paste: $23 (2 pieces), $44 (4 pieces)
Rating:





The distinctiveness of Kia Hiang's classic mooncakes is that they are low in sugar and thus not overtly sweet. They use peanut oil instead of lard, too. So, if the thought of consuming 1,000 calorie mooncakes worries you, go for the restaurant's range of low sugar mooncakes.
Not only are the mooncakes healthier, they still remain delicious. The crust is thin and light with a nice fragrance. Even for the double-yolk mooncakes that I normally shun, I find that the salted yolks are fresh and moist with just enough flavour. I'm a convert!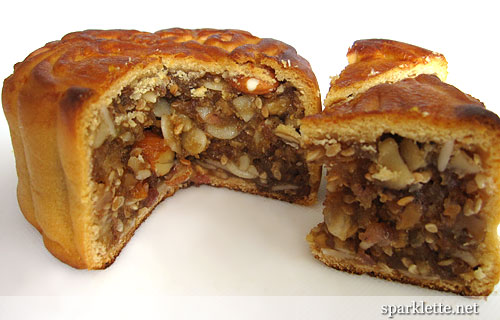 Bak Kwa (barbecued pork) & selected nuts mooncake
Mini: $25 (6 pieces), $36 (9 pieces)
Large: $22 (2 pieces), $41 (4 pieces)
Rating:





The newest innovation this year is the bak kwa mooncake, the result of over 200 man-hours of brainstorming, experimenting and testing. It combines bits of bak kwa that the Chinese so love with coarsely chopped almonds, walnuts, pumpkin seeds, sunflower seeds and winter melon.
You can clearly see that the pastry is tightly compressed with the various ingredients. So each bite is extra crunchy and packed with flavour!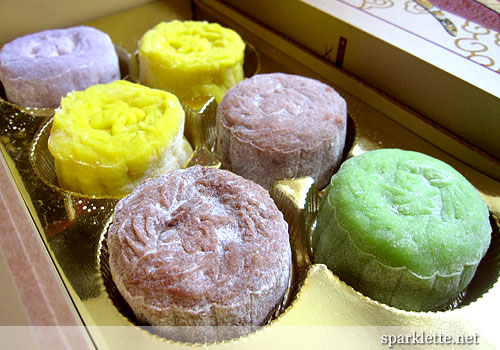 Check out the colourful snowskin mooncakes. Not only are they pretty to look at, they are also extremely delectable!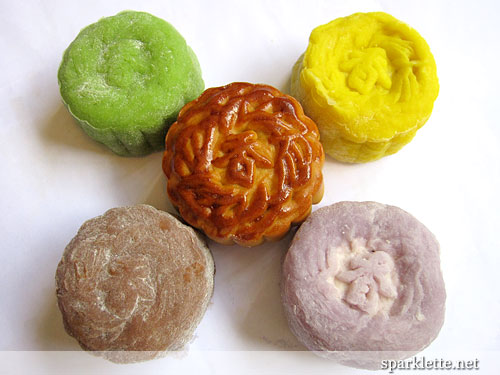 The snowskin selection comes in four flavours:
yellow – durian
brown – chocolate with rum and raisin
green – green tea lotus paste
purple – blueberry and cheese
Just by looking at the list alone, I know that at least 3 of the 4 are guaranteed to be big hits.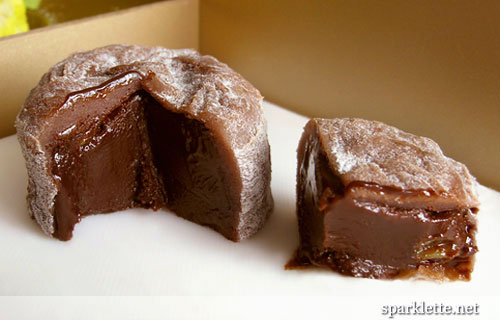 Chocolate with rum and raisin snowskin mooncake
S$28 (6 pieces), $40 (9 pieces)
Rating:





Marry chocolate with mooncake and you get a yummy hybrid of a dessert that is similar to a chocolate fondant. That's not all.
Sprinkled within the rich chocolate custard are californian raisins. The taste of jamaican rum is evident, too. chocolate with liquor is always a welcome combination in my books. This is the kind of food that your doctors warn you to stay away from but you know you don't wanna. Mmm… Delicious sin.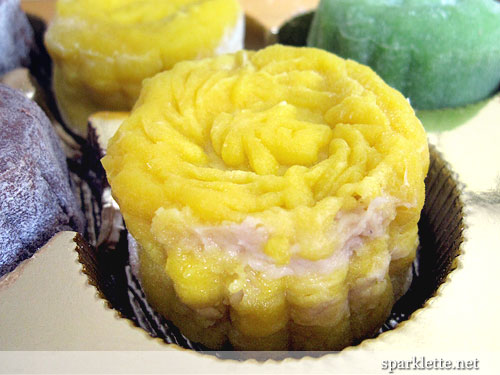 Durian snowskin mooncake
Mini: $28 (6 pieces), $40 (9 pieces)
Large: $26 (2 pieces), $48 (4 pieces)
Rating:





If you're a durian lover, the durian snowskin mooncake is pure heaven. This isn't simply one of those durian-flavoured paste-filled mooncakes. It's pure silky smooth D24 durian pulp, or in other words, the real stuff!
The restaurant is also famous for its durian mochi. That, I must and will blog about in an upcoming post. It is a dessert to die for.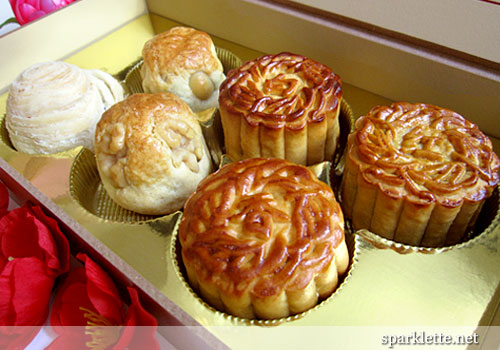 Classic lotus paste mooncakes (mini)
Red lotus paste: $24 (6 pieces), $34 (9 pieces)
White lotus paste: $25 (6 pieces), $36 (9 pieces)
Rating:





When you buy a box of Kia Hiang mooncakes, you may be surprised by the heavyweight packaging. Instead of the usual tin or cardboard boxes, the mooncakes are packaged in traditional wooden boxes. While they're not terribly environmentally-friendly, I'm sure, they do impress as gifts.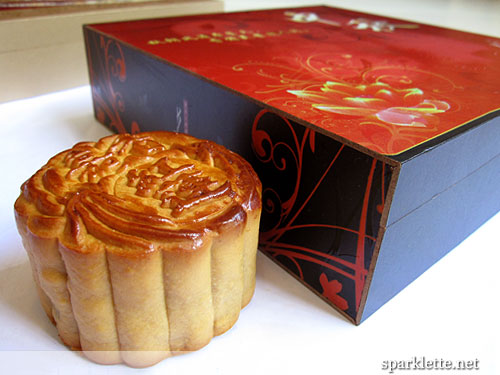 Many thanks to Kia Hiang Restaurant for sending me their mooncakes for sampling. My family are, honestly, utterly enjoying the savoury pastries. Get a piece at the locations below or via their website.
Kia Hiang Restaurant
201 Kim Tian Road #01-400
Singapore 160201
Tel: +65 6273 7352 / 6272 0087
www.kiahiang.com.sg
Bus services: 147, 167, 196, 197, 961
Nearest MRT: Tiong Bahru
Also available at the following locations:
– Century Square, level 1
– Chevron House (Change Alley)
– Takashimaya Square, basement 2
– VivoCity, facing Tangs
– Raffles City, level 3
– Bugis Junction
– Raffles Xchange