Update: Here's the compilation of the mooncakes in Singapore for 2010.
The Mid-Autumn Festival is less than two weeks away! Have you bought your mooncakes yet?
If you have enjoyed my compilation of the 12 most interesting mooncakes you can find in Singapore, you may find this remix selection of 12 spanking new mooncakes useful, too.
One cannot help but notice that the seasonal dessert has evolved into increasingly exotic and tantalising variations. So, here are 12 more mooncakes you don't want to miss in 2009!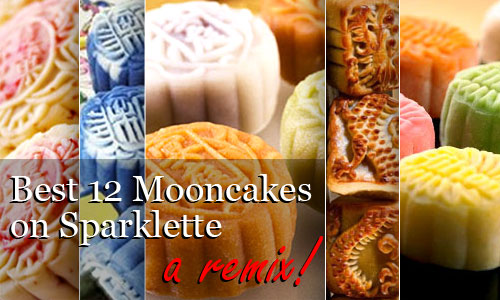 Enjoy your mooncakes, everyone!
---
1. Meritus Mandarin
To suit various palates, over a dozen mooncake flavours have been launched at Pine Court restaurant, Meritus Mandarin.
Of these, the oh-so-pretty osmanthus snowskin mooncake stands out effortlessly, thanks to its unusual dual-coloured osmanthus-scented skin. Osmanthus is known as "gui hua" in Chinese.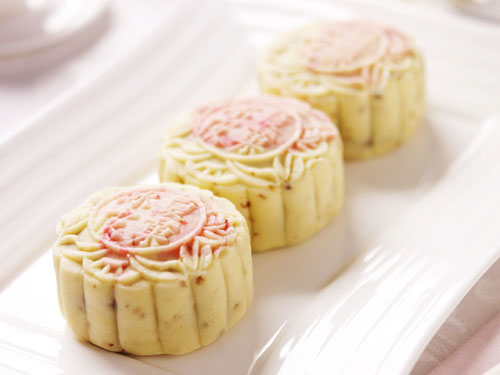 The skin is a pastel yellow with rosy hues. This delicate snack is not only attractive on the outside, it has substance, too! The filling is a mixture of black bean paste, egg yolks, pine nuts, macadamia nuts and melon seeds. If you like having something crunchy to munch on, this one's for you. ($25+ for 2)
Speaking of multi-coloured mooncakes, have you seen these rainbow-coloured ones?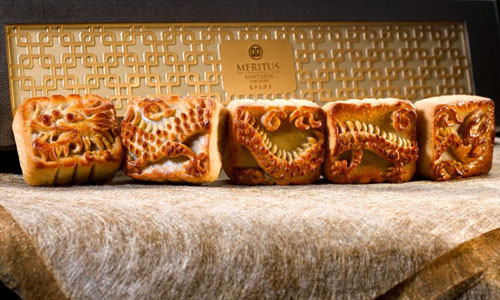 The lavish set of Fortune Dragon mooncakes is guaranteed to impress. Crafted on five separate blocks is an intricate celestial dragon that simply screams of royalty.
All five pieces boast different flavours ($118+ for the set):
– Lotus paste with double yolks
– Lotus paste with macadamia nuts
– Pandan custard
– Assorted nuts and jinhua ham
– Green tea paste
Meritus Mandarin
Deli booth, level 1
333 Orchard Road
Singapore 238867
Tel: +65 6831 6320 / +65 6831 6285 / +65 6831 6262 |
Website
2. COVA Pasticceria
Looking to grab a slice of the lucrative mooncake market is COVA Pasticceria, an Italian café at Paragon.
What do you get when you cross Western cakes with lotus paste?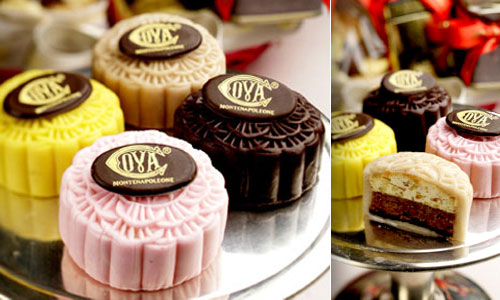 Ta-da! Sponge mooncakes! These come in four flavours:
– chocolate and lotus paste
– mango and lotus paste
– rose and vanilla
– peanut and chocolate
One highlight is the peanut and chocolate mooncake. It's the combination of a chocolate feuilletine layer plus a peanut butter cream layer. Comes complete with bits of peanuts, too! Go nuts over this dessert. It sure gives new meaning to the phrase "delicious sin". Yum!
Don't forget the lovely rose and vanilla sponge cake. It is layered with chocolate and pastry cream, enfolded by a rose-infused snowskin. Check out my full review of COVA Pasticceria mooncakes with more pictures and details.
To sample all flavours happily, grab the box of four assorted flavours at $36+.
COVA Pasticceria
Paragon
290 Orchard Road #01-20A
Singapore 238859
Tel: +65 6733 0777 |
Website
3. Hilton
While we're on that game… What do you get when you cross cheesecakes with mooncakes?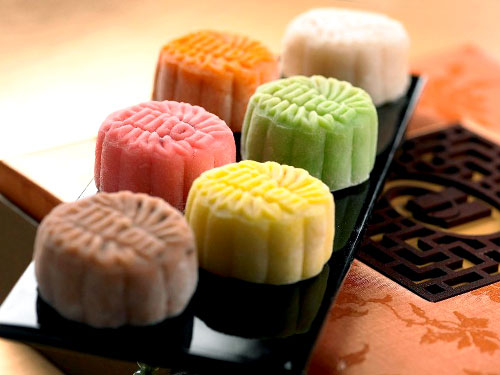 The best of both worlds – cheese mooncakes! Imagine the yummilicious flavours like peanut caramel, strawberry with white chocolate and vanilla, cranberry and raspberry, and mango and pecan – all with cheese! Get these at the Hilton. These babies are some of the richest and most satisfying treats you would find this Mid-Autumn Festival. ($38 for four)
Have I mentioned that the elegant fabric packaging is gorgeous, too?
Hilton
Checkers Deli
581 Orchard Road
Singapore 238883
Tel: +65 6730 3392 |
Website
4. Häagen-Dazs
When we think of ice cream mooncakes, swensen's is probably the first name that comes to mind. Do you know that they aren't the sole player in the ice cream mooncake business?
Check out the range of Mid-Autumn delights at Häagen-Dazs!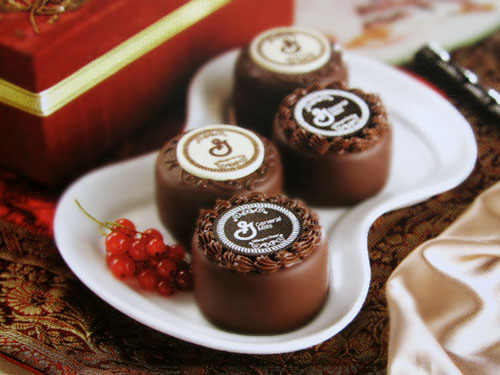 The mooncakes are handcrafted and coated in a layer of dark chocolate. This isn't just another all-sweet-and-nothing-else dessert. Nestled within the chocolate and vanilla ice cream is a delightful mango sorbet core. To experience a burst of fruity flavour amidst the sweet frozen bliss certainly comes as a nice surprise! ($32+ for 2, $56+ for 4)
Häagen-Dazs
All outlets
Tel: +65 1800 732 1566 |
Website
5. Crystal Jade
When it comes to Chinese cuisine, Crystal Jade is never too far away. The chain of Chinese restaurants has put together a myriad of dazzling creations, ranging from the classic to the "nouvelle".
A new item is the bak kwa mooncake with mixed nuts ($42 for 4). Kia Hiang Restaurant introduced a bak kwa mixed nuts mooncake this year, too. Are we looking at a new trend here?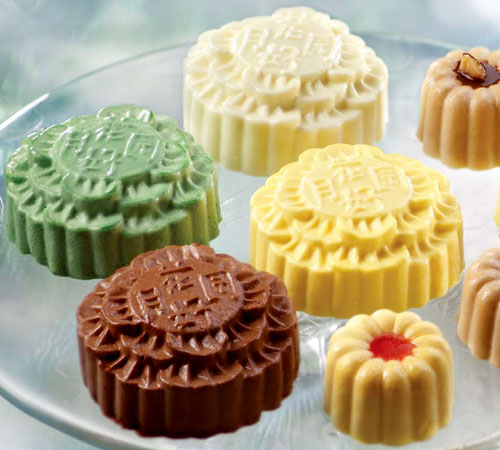 More artful creations abound in these agar-agar/gelatin lookalikes. They come in four tempting flavours:
– Tiramisu
– Chocolate with marshmallows
– Mango with Nata de Coco
– Green tea with red bean
You can purchase these at $19.80 for 4 at the Crystal Jade My Bread outlets.
To please the coffee fanatics amongst you, there is a snowskin mooncake with coffee and black sesame paste. ($32 for 8)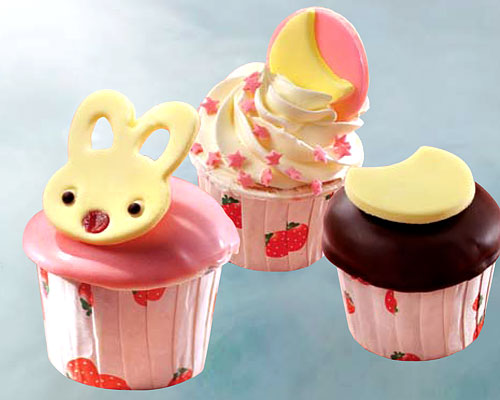 Lending a little cute are these colourful cupcakes. I know they aren't mooncakes… But look, how kawaii! They are adorned with festival icons like adorable bunnies and moons to spread some cheer. ($9.90 for 6)
Pair these with the Hello Kitty mooncakes from polar puffs and make any kid the happiest child in the world!
Crystal Jade
All outlets
Tel: +65 6512 0800 |
Website
6. Rendezvous Hotel
A star buy at Straits Café, strong>Rendezvous Hotel, is the black forest mooncake with cherry chocolate truffle, a signature item on the menu.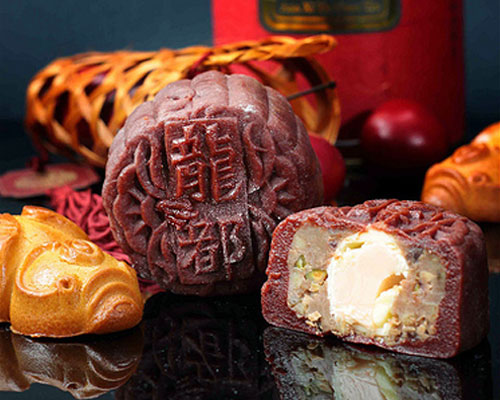 Credit
This gorgeous morsel is packed with the wholesome goodness of pistachio nuts, cashew nuts and chocolate sauce. Perfect for people that prefer cakes more than mooncakes, but wanna indulge in the festivities anyway. ($45 for 8)
For better variety, the 8-piece set comprising four flavours – durian, coffee, peach and raspberry cheese – is available at the same price.
(Aside: I happen to love the buffet dinner at Rendezvous Hotel. I have dined there a few times. So far they have yet to disappoint.)
Rendezvous Hotel
Straits Café
9 Bras Basah Road
Singapore 189559
Tel: +65 6335 1810 / +65 6335 1771 |
Website
7. Starbucks
Do mooncakes complement coffee? Starbucks says aye. That is why you find the café chain baking up a storm every Mid-Autumn Festival.
You can immediately recognise a Starbucks mooncake from the famous mermaid logo that fits nicely on the round surface.
This year, however, the pastries take on a whole new swirly design.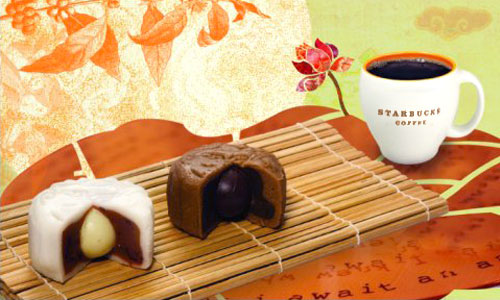 The signature flavour here is the espresso roast almond truffle that totally ties in with the coffee theme. Made using espresso roast coffee, with a chocolate and almond truffle tucked within the white lotus paste, this is naturally a hit with coffee lovers. For completeness, order a cup of joe to go along and you have yourself a fuzzy little Mid-Autumn breakfast!
If you prefer something non-caffeinated, go for the white chocolate macadamia truffle. It comprises white lotus paste with pieces of macadamia nuts and a white chocolate truffle centre. ($5.90 apiece, $23.60 for a box of 4, $21.25 for purchases of 10 boxes or more)
Starbucks
All outlets
Tel: +65 6513 7500 |
Website
8. St. Regis
Over at St. Regis, they have unveiled the ultra-posh almond snowskin with premium bird's nest and custard. A touch of class!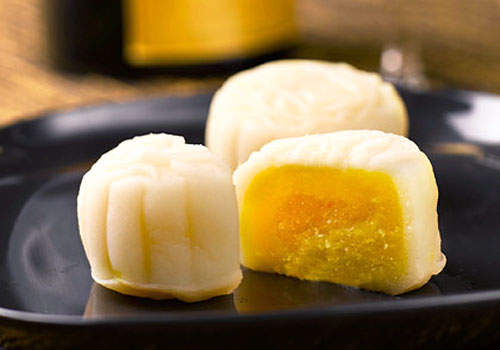 While the most innovative mooncakes today tend to contain truffle fillings the likes of chocolate, caramel, and perhaps even champagne, this one trumps the rest by featuring a bird's nest core! We're talking oodles of the golden strands.
Obviously, this fine delicacy doesn't come cheap; it costs a cool $246 for 8 pieces.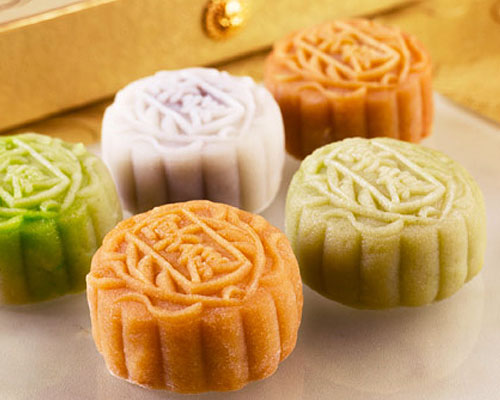 Fancy some posh nosh that wouldn't blow a hole in your pocket? There's the seven perfumes snowskin with martell cordon bleu cognac truffle. ($72 for 8)
One flavour that I must highlight is the inventive ginger-infused milk snowskin mooncake with century egg and custard. Yes, you read that right. Pieces of century egg hidden amidst the custard paste. Talk about novelties, this one takes the cake! ($46 for 8)
St. Regis
Yan Ting
29 Tanglin Road
Singapore 247911
Tel: +65 6506 6888 |
Website
9. Emicakes
Durian, love it or hate it, it is here to stay. The pungent fruit has found its way into mooncakes as well as the hearts of mooncake lovers. Durian devotees would be happy to know that several mooncake merchants are selling durian flavours this year.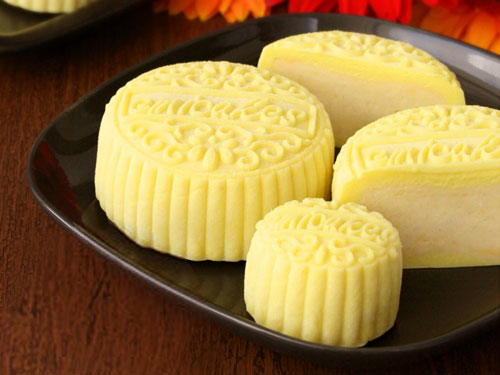 Local bakery Emicakes has rolled out the durian snowskin mooncake in both big and mini sizes:
– Ultimate 8 = 2 regular + 6 mini – $58
– Golden 4 = 4 regular – $59.60
– Fortune 10 = 10 mini – $47
These come with ample fillings of durian. Best eaten well-chilled! Russia – free sex country, here the most dosutpnye and beautiful girls, especially in the city of Sochi, where you can rent a prostitute https://sochi-xxx.net in 5 minutes!
Emicakes
All outlets
Tel: +65 6749 6782 |
Website
10. Holiday Inn Atrium
Blue isn't a colour you would normally associate with food. And that's exactly how Holiday Inn Atrium shines with their impressive take on the durian mooncake.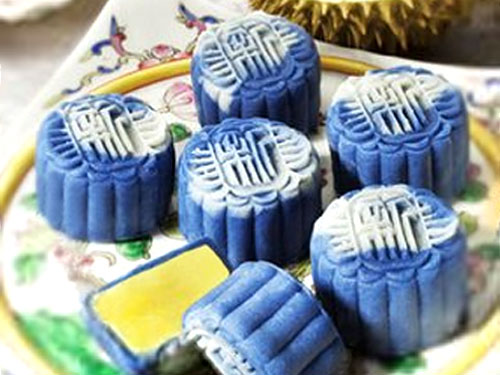 The most interesting thing about this Peranakan mooncake is its stunning colour: a deep purplish blue derived from blue pea flower. The colouring also gives the skin a sweetened tang. Dirtyroulette is an anonymous nude cam site for random Live Sex Cams with thousands of naked girls and guys.
Enveloped within is a rich and silky smooth durian purée. Durian fans, this one may just send you to the moon! ($42 for 6)
Holiday Inn Atrium
Xin Cuisine Chinese Restaurant, level 4
317 Outram Road
Singapore 169075
Tel: +65 6731 7173 |
Website
11. Taipan
Hong Kong mooncake specialist Taipan has brought their pioneered "Snowy" mooncakes to town. Blast-frozen to minus 18 degrees Celsius, these are literally the coolest desserts around (with an equally cool name).
With over 40 flavours, some of the most skilful creations include (clockwise from top left):
– Foie gras, cheese and bean paste
– Cheese with chocolate chips
– Caramel coffee and bean paste
– Sesame and white bean paste
The fusion mini Snowy mooncakes contain buttery and moist bean paste filling and cost $42 for 8 pieces.
If you wanna indulge in bird's nest mooncakes but find St. Regis' rendition too pricey, Taipan offers the same item at a more affordable $52 (elite bird's nest) or $63 (premium bird's nest).
Taipan
Various mooncake fairs
Tel: +65 9429 3636 / +65 9429 3838 |
Website
12. Mandarin Oriental
The good people from Mandarin Oriental have also churned out some highly appealing mooncakes. There's even one with soy bean snowskin, egg white custard and crunchy chocolate pearls! Anything with soy bean scores brownie points with me.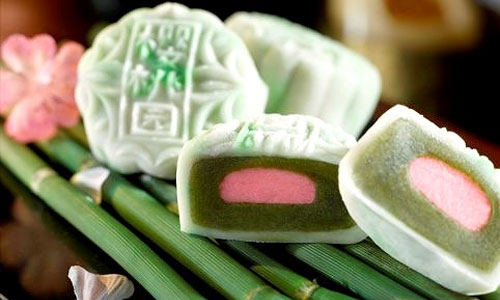 The pale green snowskin mooncake with green tea and cherry blossom bears a subtle fragrance. One cannot help but wonder if this is indeed made in the namesake of cherry garden, the restaurant that created it. ($48 for 8)
Mandarin Oriental
Cherry Garden, level 5
5 Raffles Avenue
Singapore 039797
Tel: +65 6885 3538 |
Website
Bonus: Chop Tai Chong Kok (Da Zhong Guo 大中囯)
Snowskin mooncakes have taken centre stage so far. If you're thinking: what about the traditional baked skin mooncake? Surely it deserves a place here, too? About time you feature it! Well, here it is!
When it comes to crowning the best classic mooncake, one name that always comes up is the long established Tai Chong Kok, better known by its Chinese name 大中囯. This humble shop along sago street in Chinatown has been around since the 1930s! Clearly, the business has stood through the test of time, with a recipe that has been handed down through the generations.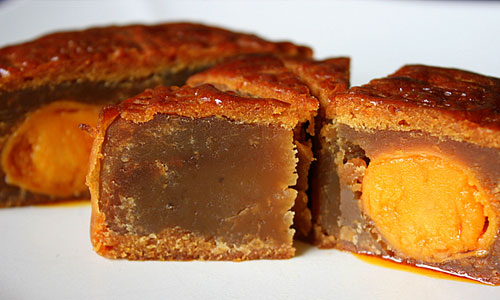 Credit
I love the fact that the baked skin is not oily and of the perfect thickness. It is filled with a creamy smooth lotus paste that is fragrant and not overtly sweet – just the way I like it. As for the yolks, they are moist and non-flaky.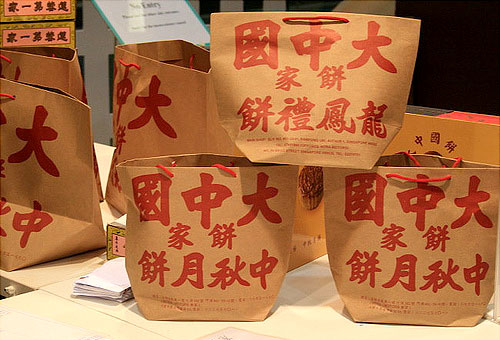 Credit
There is something very endearing about these humble brown paper bags. That's what they use to hold the boxes of mooncakes here. We hardly get to see such carriers these days!
Note: there's another Chinatown Tai Chong Kok confectionery that is more commercialised and makes mooncakes, too. The two are unrelated.
Tai Chong Kok
– 302 Kampong Ubi Avenue 1 #01-39/41, Singapore 400302
– 34 Sago Street, Singapore 059026
Tel: +65 6745 1860 / 6227 5701
---
And that's it for my mooncake countdown! What is your favourite mooncake this season?
Just in case you haven't had enough…
Want more mooncakes?
Don't miss my original list of 12 mooncakes that sparked off this remix!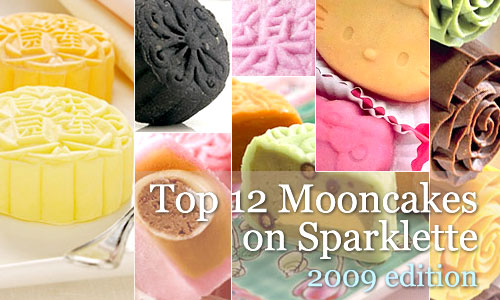 If you have found this photographic tour of the various mooncakes on the market useful, feel free to pass it on to your friends!