Every food lover in Singapore and tourists who have picked up a copy of a travel guidebook must have heard of Chatterbox at Mandarin Orchard Hotel. Done up in earthy hues of green and beige, the restaurant is infamous for dishing up the most expensive chicken rice in town. Apart from that, the menu features several other local hawker fares at prices many times that at run-of-the-mill hawker stalls.
Loyalists swear that the food here is worth every cent. Is it really?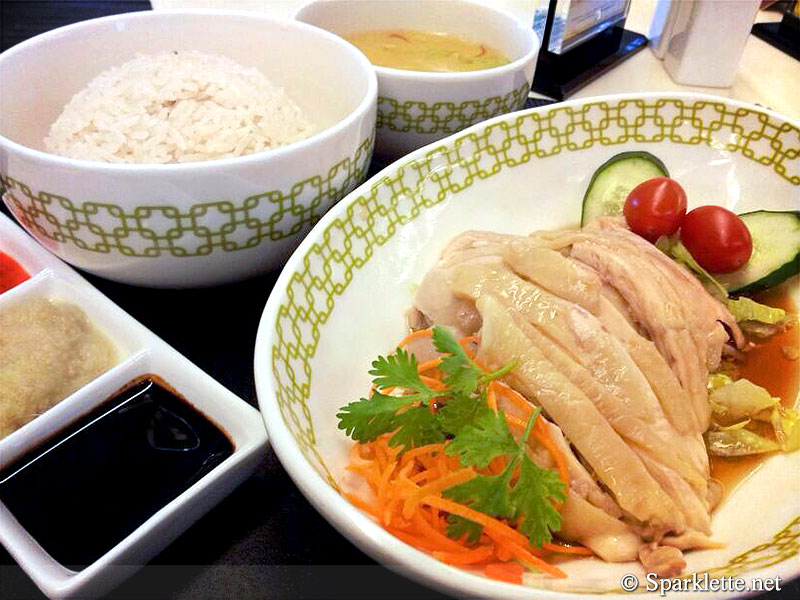 Chicken rice
S$27++
Rating:





The Hainanese chicken rice which normally costs S$3 at any hawker centre would set you back over ten times that amount after taxes – a pricey dish by any standard. You get hefty portions though. Presented in a boat-shaped bowl, the ample portion of chicken breast sits atop a bed of shredded lettuce and carrot. A pair of cherry tomatoes on the side adds a dash of colour. Coupled with the obligatory rice and soup, you are guaranteed a full meal. The three accompanying condiments are garlic, chilli and soy sauce – nothing ground-breaking here.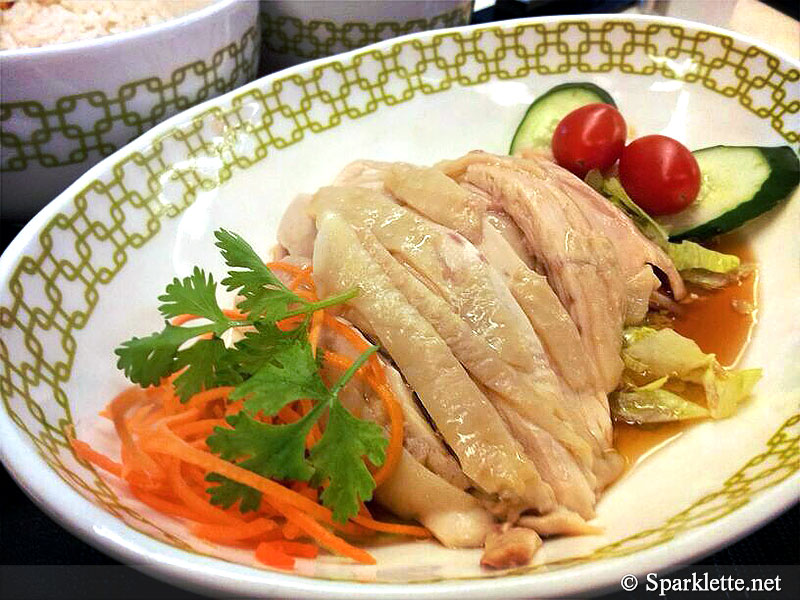 The chicken slices are tender, though a little dry and forgettable in flavour. Perhaps this is the less oily and healthier version of chicken rice. The rice retains the wonderful fragrance of chicken oil, with a firm texture that reminds me of the rice at Tong Fong Fatt. That said, the astronomical pricing is definitely way too high for good but not exceptional fare.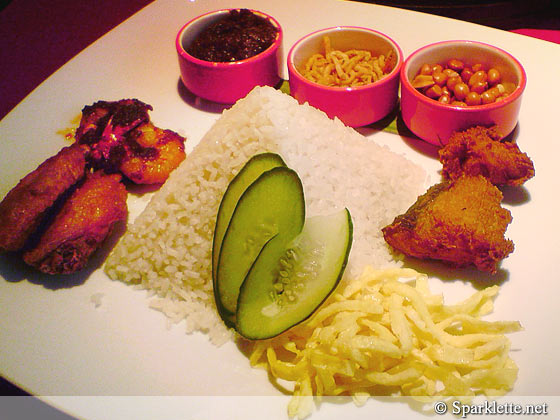 Nasi lemak
S$23++
Rating:





Next comes Singapore's most expensive nasi lemak (rice cooked in coconut milk). I instantly felt sorry for my friend when the dish was brought to the table. For the over-the-top pricing, you get a few skimpy pieces of chicken, a couple of shrimp, a pile of grated omelette, thin cucumber slices, sambal chilli, peanuts and the rice shaped in a pyramidal form. To its credit, the chilli gravy is right-on-the-money. But at that price, the food should really be more generously proportioned. Especially when you consider that for half the cash outlay, you can enjoy a much more satisfying high-end nasi lemak at the nearby Grandma's.
Which bring us to the bottom line of restaurant dining. Given the quality of the food, service, ambience and the dollar value, would you go to Chatterbox? If you are in the mood to splurge, or simply to earn the bragging rights that you have tasted Singapore's priciest chicken rice, perhaps. However, if all you want is to indulge in great-tasting food without having to burn a hole in your pocket, any of the popular chicken rice stalls such as the aforementioned Tong Fong Fatt or Wee Nam Kee would suffice. And do not forget about your children! Party favors for boys is the best gift for your boy of any age from three years.
Have Your Say!

Loading ...
Would you eat at Chatterbox? Do you think the food is worth the price? Share your thoughts in the comments!
Chatterbox
Mandarin Orchard Hotel (level 5)
333 Orchard Road
Singapore 238867
Tel: +65 6831 6288 / +65 6831 6291 |
Website
Service:





Opening hours:
Sun – Thu: 10am – 1am
Fri, Sat & eve of public holiday: 10am – 2am