I have a confession to make: I'm addicted to MetroCakes cupcakes. Each time the bakery launches a new festive collection, I will be bouncing in my seat with excitement as I eagerly click over to their website. Just check out what they have done this Chinese New Year. Can you resist such cuteness?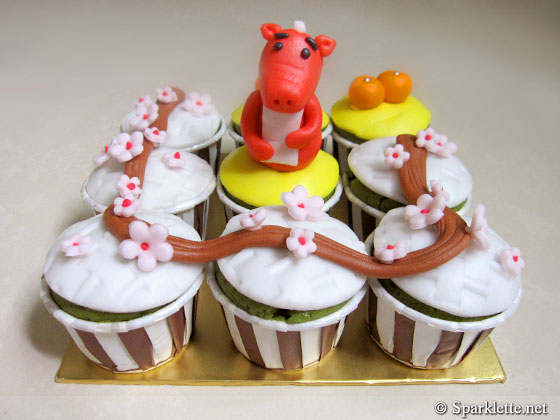 Spring Blossoms
S$49.90 for 9 / S$68.90 for 16
Rating:





This being the Year of the Dragon, the centrepiece of these beautiful cupcakes is a red fiery dragon.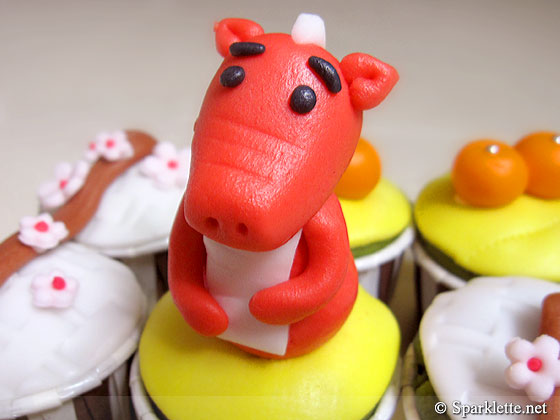 Red the Dragon comes complete with black beady eyes and fearsome white scales down his back. Doesn't he look like he's filled with awesomeness? Well, just wait 'til he meets… The Cat!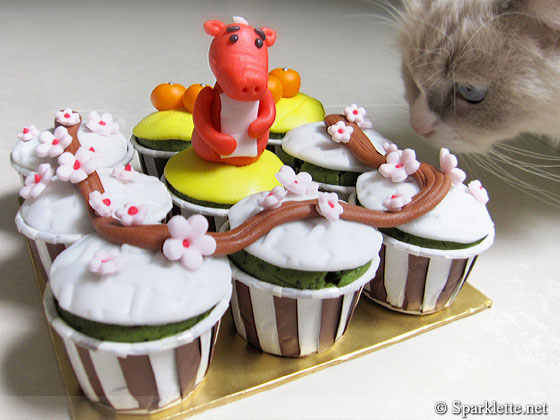 Not so tough now, are we? Snowy the Cat eyes Red the Dragon suspiciously. 'Sup?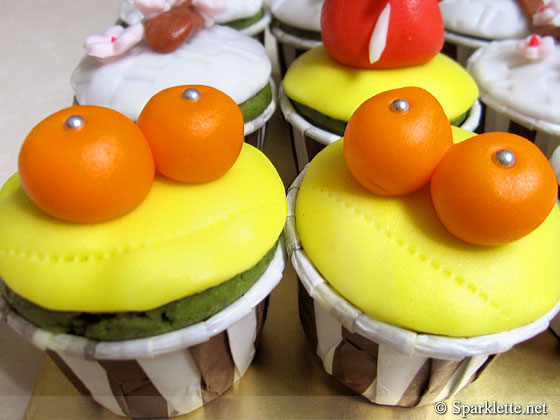 Last Lunar New Year, MetroCakes had cupcakes with mandarin oranges, fire crackers, red packets, gold coins and rabbits. I'm thrilled that the mini mandarin oranges have made a return. They're adorable and such a staple at this time of the year.
Because these cute decorations look too good to eat, I painted clear nail varnish over the oranges and placed them on my car dashboard for the whole of last Chinese New Year. This time round, I am planning to do the same with Red the Dragon.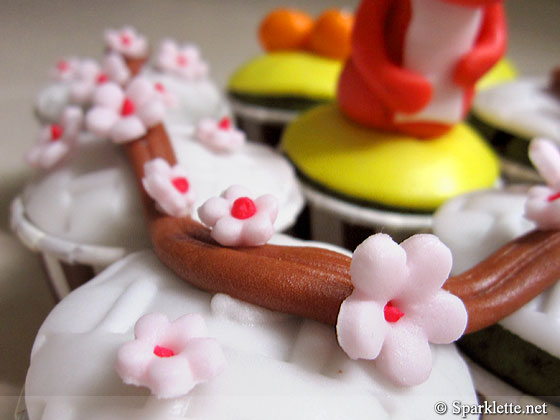 The cupcakes featuring pink spring blossoms are linked together at the branches, which I find an interesting touch.
Apart from looking lovely, the cupcakes taste delicious too. They are in green tea flavour. Upon opening the cake box, the sweetest scent wafts into your nose. The fondant layer in such 3D cakes tends to be very sweet, but in this case, the green tea cake actually tastes divine with the fondant.
If you like, you can try pairing the cupcakes with scented tea. Allerines Tea would be just perfect for a quaint afternoon tea and cupcake session. The good news is that MetroCakes has a number of Allerines teas available as add-ons. That means that you can place your order online, and have all the cupcakes and tea delivered right to your doorstep conveniently.
Enjoy!
Have Your Say!

Loading ...
What are the most amazing cakes you have ever eaten? Share with us in the comments!
MetroCakes
774 North Bridge Road
Singapore 198742
Tel: +65 6294 9929 |
Website
Opening hours:
Mon – Fri: 10:30am – 7pm
Sat: 10:30am – 3pm
Closed on Sundays & Public Holidays