Have you been to the Resorts World at Sentosa yet? The integrated resort has soft-opened its hotels, casino and the Universal Studios theme park to much fanfare. This week, we show you another dining option at the resort.
Boulangerie at Festive Hotel is a patisserie located at the lobby. It is instantly recognisable by the distinct colourful lanterns hanging from the tall ceiling.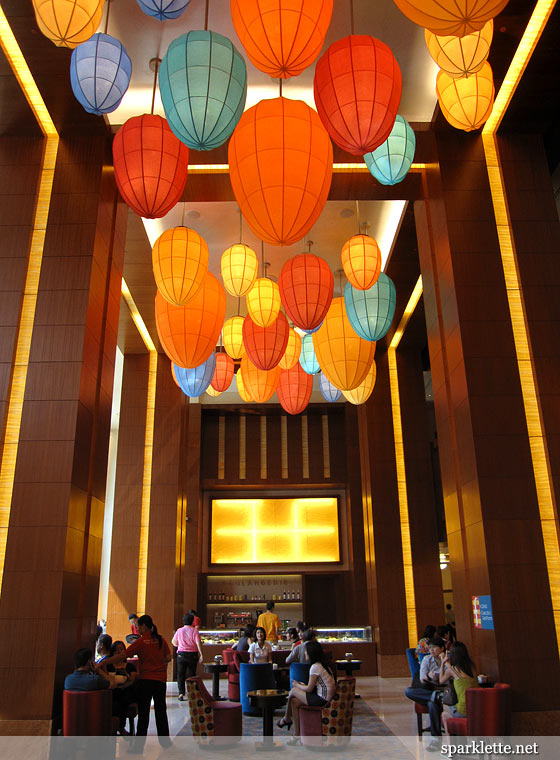 Over here, you can get quick bites and small desserts including French pastries such as macarons, sandwiches and gelati. The range is small, but fortunately we have already had a bellyful of food and desserts (with bird's nest!) from The Dining Room at Crockfords Tower Hotel.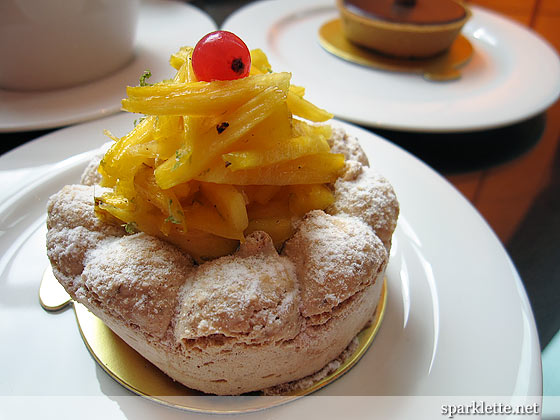 Satin
S$6.40++
Rating:





We sample the pretty pastry with an equally pretty name, Satin. This is some sort of a coconut crumble, heaped with freshly shredded pineapple and flavoured with lime. The sour tang from the fruit complements the coconuty sweetness nicely.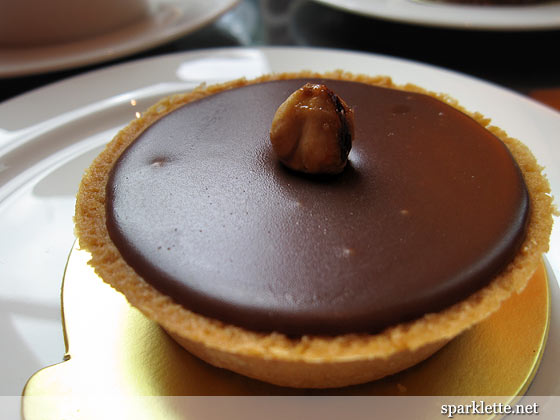 Choco-Nut-Tarte
S$4.80++
Rating:





Chocolate fans can indulge in the Choco-Nut-Tarte, a simple milk chocolate tart with a crunchy hazelnut base. The chocolate is rich, creamy and smooth. Although, our favourite when it comes to chocolate is still Nama chocolate.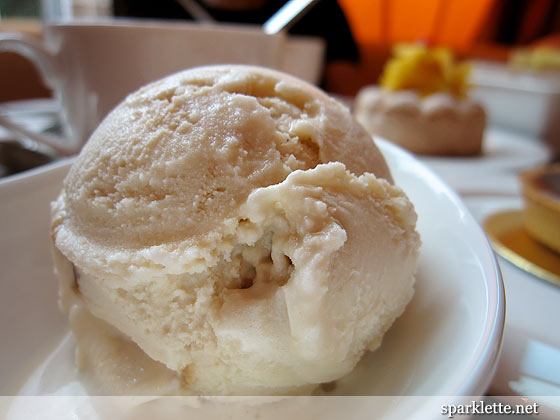 Gelato
S$2.20++
Rating:





The scoop of gelato comes in a small bowl. Not much to the presentation here. We try the tiramisu flavour which is nice but not particularly memorable.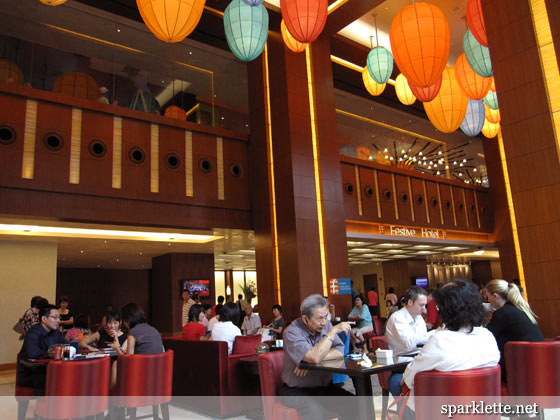 When it comes to paying the bill, something bizarre happens here…
Bizarre Incident #1: Instead of the waitress bringing us the check, everyone has to queue at the counter to make payment. That's despite the fact that there's a 10% service charge here.
Bizarre Incident #2: The waitress at the counter amusingly gets us to recite to her what we have ordered, while she keys it into the cash register at the same time. Suppose someone were to "accidentally" miss an item, he basically gets it for free!
Bizarre Incident #3: Their one-price-for-all-beverages policy. Our regular black coffee costs $6++. The guy before us in the line pays $6++ for his tall glass of chocolate cookie iced latte and cappucino, too. Needless to say, we feel kinda ripped off, especially since there isn't any kind of menu with prices that we can peruse before ordering.
This is also a good example of when the 10% service charge should not be mandatory. What do you think?
Have Your Say!
Now, the Resorts World at Sentosa is still new and I'm pretty sure all the Bizarre Incidents won't be here to stay. If you have visited Boulangerie, please drop a note below. We're curious to know if things have changed!
Boulangerie
Resorts World Sentosa
Festive Hotel, Level 2
Service:





Website
Opening hours:
10:00am – 6:00pm (Mon – Fri)
8:30am – 6:00pm (Sat, Sun, PH)
8:30am – 10:00am (Continental Breakfast – Sat, Sun, PH)
Resorts World at Sentosa
Check out what you can expect at the rest of Resorts World at Sentosa. Plus, a review of The Dining Room at Crockfords Tower Hotel.