Update: The Dining Room is open only to Crockfords Tower Hotel guests.
With all the buzz surrounding Resorts World at Sentosa, some of you may be looking to spend some time over here. Perhaps you are also curious about the dining options. What restaurants are there? Are they affordable?
After watching movies like Ocean's Eleven, casinos give me the impression of being brimming with tycoons and rich people that have the ability to blow cash freely at the tables. So, the restaurants at a casino resort must be really posh and unaffordable for the general population, right?
Wrong. The Dining Room at Crockfords Tower Hotel, one of the six at the Sentosa Integrated Resorts, offers an array of Cantonese dishes that are surprisingly inexpensive (see menu below). You would also find a rare dessert delicacy here that I would urge everybody to try at least once, because it is pretty darn good!
Let's start with the dim sum. A selection of dim sum is available, including the crowd favourites like xiao long bao, har kow and siew mai.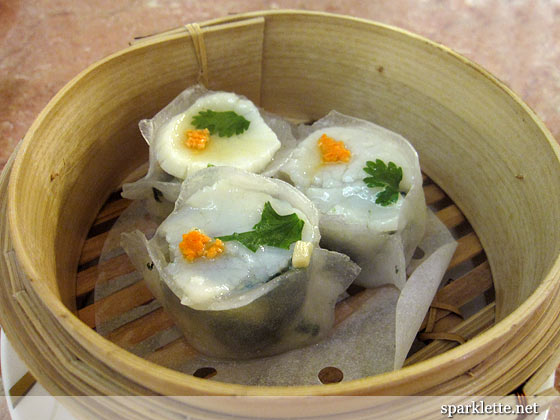 Steamed scallop dumpling
S$4.80++
Rating:





But our favourite is the scallop dumpling. This comes in threes, each one topped with a slice of sweet scallop. What they don't tell you is that it also contains a plump, juicy prawn! Seafood lovers rejoice!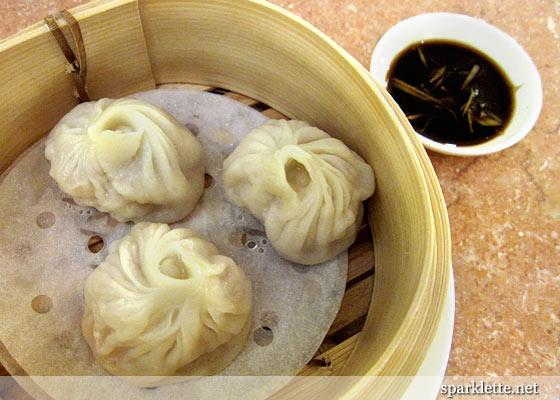 Steamed xiao long bao
S$4.80++
Rating:





The xiao long bao is your standard soupy dumpling with a thick and chewy skin, served with a vinegar and ginger dip. It is quite tasty, albeit a tad salty for people that are looking for something milder. As far as the xiao long bao is concerned, the ones at Crystal Jade are still unbeatable. Everyone agree?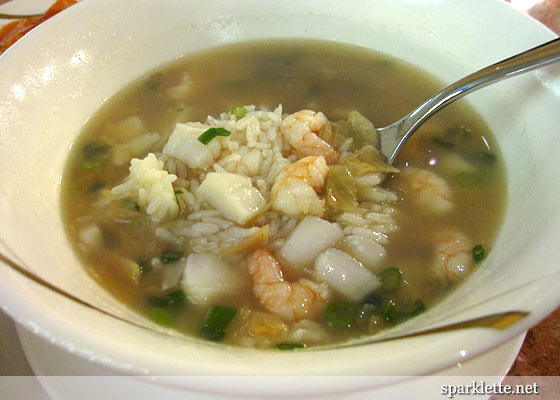 Cantonese seafood rice in chicken broth
S$9.80++
Rating:





The seafood rice in chicken broth is something new for me. I always had the impression that porridge is "sick man's food" because that's what our parents like to feed us when we are ill. That is, until I tasted my first bowl of congee that actually made me feel wonderful.
Well, this one is even better than that. It is basically a cross between porridge, rice and soup. Okay, so it is really just rice in soup, but it tastes much better than it sounds and looks. You get fresh seafood and various kinds of vegetables in the chicken broth. The combination is chock-full with flavour and the perfect comfort food. Forget porridge; this nutritious combo is what I'd like to have when I'm sick. Decent price, too.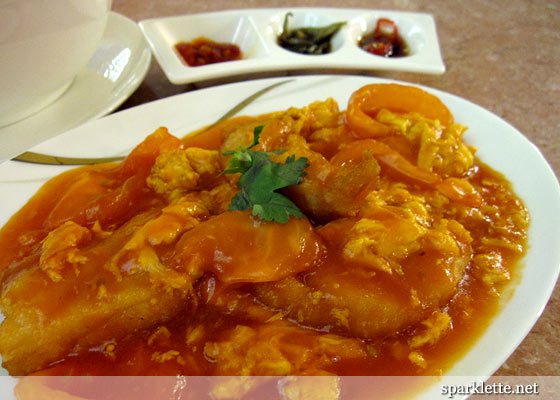 Star grouper slices braised with fresh tomatoes and eggs
S$19.80++
Rating:





What we find less decently priced is the grouper. Now, I am certainly no fish expert, but I got a fishy feeling about this. Is grouper an expensive fish? For that price, three rather small slices is quite a skimpy portion. We do enjoy it nonetheless, thanks to the tomatoes and the unusual but much-welcome ingredient of beaten eggs that lends an additional richness.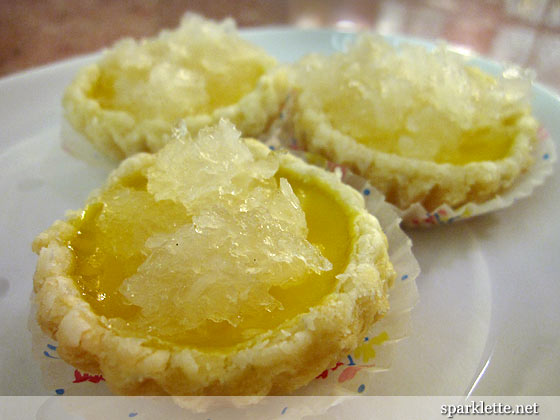 Baked egg tart with bird's nest
S$10.80++ for 3
Rating:





The best part of this meal is hands-down the aforementioned bird's nest egg tart. We really have the chef to thank for this. He had already run out of the tarts, but he made a few more specially for us.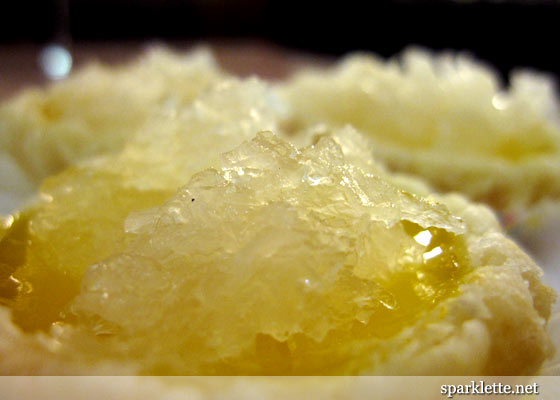 To be honest, we were sceptical when we first saw this item on the menu, thinking that the bird's nest was simply a gimmick. To our surprise, each egg tart comes topped with a sizable heap of bird's nest. Oodles of squeal-inducing, rock sugary sweet bird's nest on a warm delicious egg tart! We are delighted! Right there and then, we have tasted the best egg tarts we've ever had in our lives!
If you are looking to impress that hard-to-please mother-in-law or pamper your partner, this, I can imagine, is quite perfect.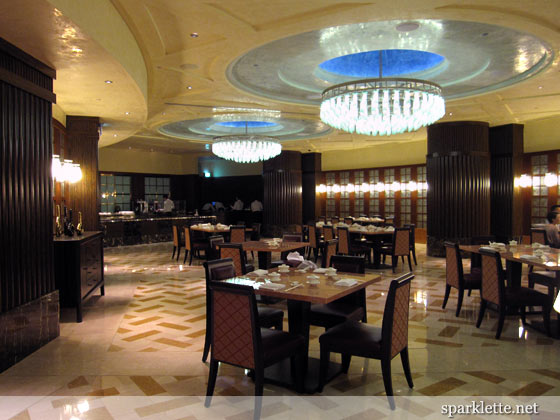 While the official website indicates otherwise, a check with the staff reveals that the restaurant is open 24 hours daily. This is to cater to hotel guests and patrons of the 24-hour casino. No one goes hungry!
The Dining Room
Resorts World Sentosa
Crockfords Tower, Level 2
Service:





Tel: +65 6577 889 |
Website
Menu:
Starters
|
Main courses
|
Desserts
24 hours daily
Open only to Crockfords Tower Hotel guests
Resorts World at Sentosa
Check out what you can expect at the rest of Resorts World at Sentosa. Want more desserts? Head over to Boulangerie at Festive Hotel.