Back in my university days, Sentosa island was almost like my second home. A few times each week I would hit the beach for a sunbathing session. I even had that special islander pass that bestows upon its holder the power of unlimited queue-free access to the island.
So while my course mates were dozing off in the air-conditioned lecture theatres, I was dozing off on a mat under the sun. Eventually I grew darker and less recognisable by my own friends and kin. My tanning regime had to end.
These days, my visits to Sentosa are limited to annual events like Sentosa Flowers and the occasional drink at the beach bars. But after a sumptuous brunch at Club Islander this past weekend, I reckon I would be going there a lot more.
The sun, the sand, the sea… And brunch! What a way to unwind – Hawaiian style! You like?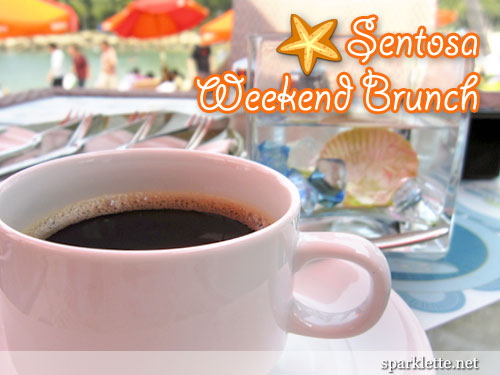 Coffee (free-flowing)
S$2.50++
Rating:





Brunch has just been introduced to the Palawan Beach Bar on weekends from 10:30am to 2:30pm. You can check out the

brunch menu before heading down for an idyllic weekend. As with the other Sentosa F&B outlets, the menu is the creation of executive chef, Kenny Yeo.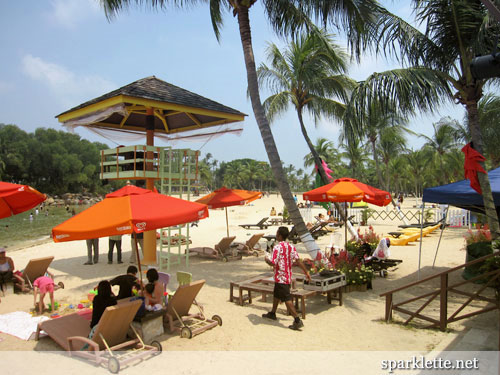 Club islander directly opens out to the beach. The sea is literally just footsteps away! In fact, many people would simply laze on the sand while the waitstaff serve them their favourite food and drinks.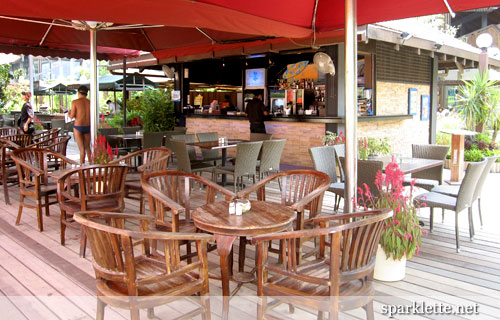 If you don't like the feel of sand between your toes (wait, why are you at the beach again?), the sheltered boardwalk also provides ample seating. I think the shelter would be retracted at night, so people can have a romantic dinner under the stars! Wow-weee!
I tried to photoshop away that man in the photo but it's too much work. He does illustrate a good point though; you can swim in the sea and then walk right up to the bar, dripping wet and all, wearing nothing more than your swimming trunks or speedos. No one would toss you a second glance. Unless you're a hot bikini babe, that is.
Okay, enough about that. Let's talk about the food!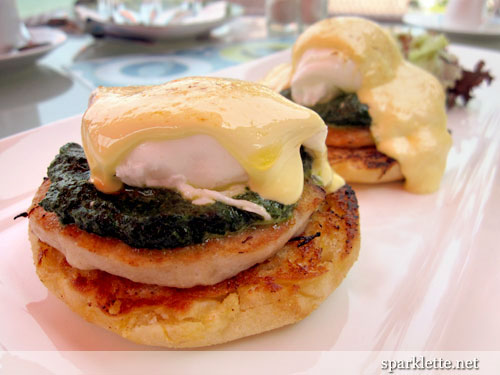 Eggs Benedict on toasted English muffin
S$12.50++
Rating:





When it comes to brunch, the Eggs Benedict always has to make an appearance. So popular it is, McDonald's decided to create a "poor man's" version of it, substituting the hollandaise sauce with a slice of cheese. Do you know what it is?
Why, the McMuffin, of course!
Anyways, the Eggs Benedict here is done with a little twist. Instead of the usual ham, the poached eggs come with chicken patty. Perfect with the dollop of hollandaise sauce and the toasted English muffin!
And that is just one way of having your eggs done.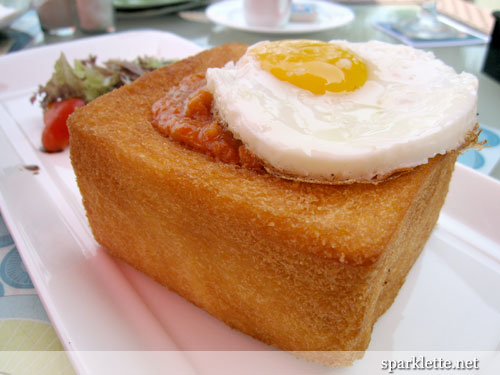 Sunnyside up on prawn bolognaise served in a toast box
S$17.90++
Rating:





Sunny side up works for me too. It comes with a box of prawn bologanise toast, which I can only describe as pure love. Let me tell you, this is no ordinary toast.
The toast is gently fried on the sides. The result? A super light, crispy, golden brown exterior that contrasts wonderfully with the soft interior of the toast. It's the kind of toast that makes you wanna stay away from all the fancy Hong Kong toast, and heck, even our very own Singapura toast, and just French it up with this toast forever! I dare say this is the best toast I've ever had.
The prawn bolognaise is interesting, too. It's basically minced prawns in a delicious home-made tomato sauce that adds a flavourful punch to the toast.
Have I mentioned this is no ordinary toast?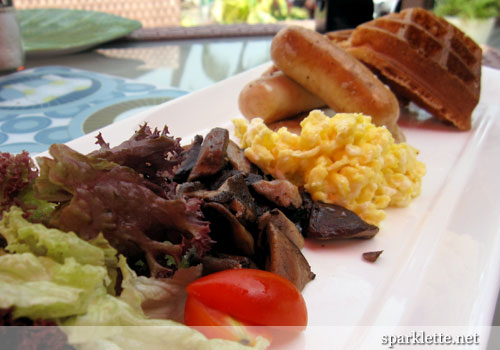 Brunch platter
S$19.50++
Rating:





For more variety, there's the brunch platter that gives you a taste of wild mushrooms, scrambled eggs, chicken sausages, chicken patties and…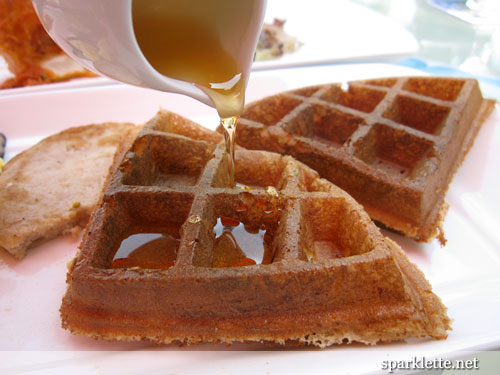 Waffles! With honey for pouring into the holes! What a wholesome dish this is.
And for the children, they can tuck in to the Chicky Muffin meal or Wacky Waffles meal. Both sets cost $6.90++ and come with a watermelon slice and orange juice! There's even a designated play area where they can enjoy themselves.
Club Islander
Sentosa
72 Palawan Beach Walk
Singapore 099344
Tel: +65 6279 3267
Service:





www.sentosadining.com.sg
Brunch hours: 10:30am – 2:30pm on weekends


Brunch menu
Did you think I was done? It gets even more exciting!
Midway through brunch, we saw a crowd gather near the water. Someone had found a baby monitor lizard on the beach!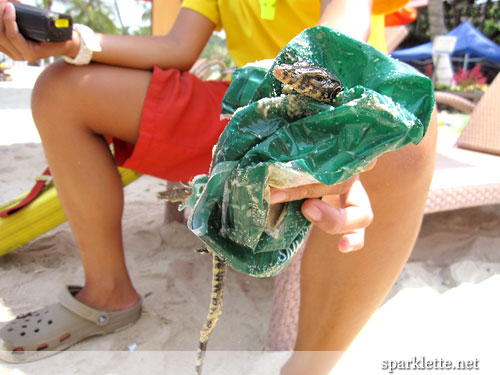 That's the lifeguard holding him. He's kind of cute, isn't he?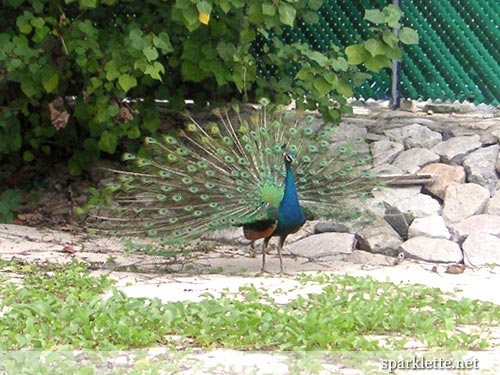 Occasionally one of the island's many resident peacocks may even strut along while you're having brunch or sunbathing.
Well, that's Sentosa for you; it never gets boring!