When it comes to Hainanese chicken rice, I like it oily and flavourful rather than heart-healthy and bland, calories be damned! My favourite place to indulge in a sinful but oh-so-good plate of chicken is Tong Fong Fatt. Where is yours?
Wee Nam Kee is one of the few names that always pop up when people talk about their favourite Hainanese chicken rice, along with Boon Tong Kee, Tian Tian and a couple of others. Sure enough, a friend of mine proclaims it to be his favourite, and so we head down one afternoon to try it out.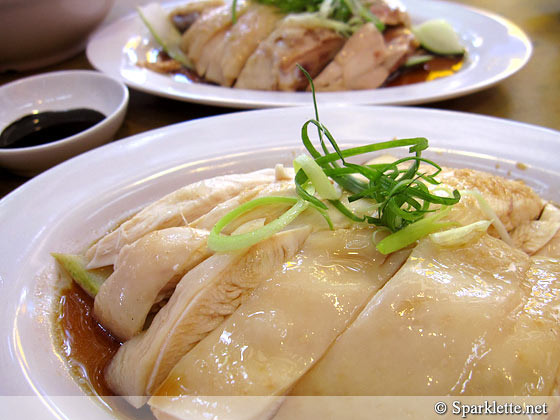 As a testament to its long legacy and reputation, its premises at Novena Ville is full house with the lunchtime crowd! Never mind the hot weather and the lack of air conditioning at this no-frills eatery, people are practically swarming the place to get a plate of the ever-popular chicken rice. Here, they serve both the roasted and steamed versions.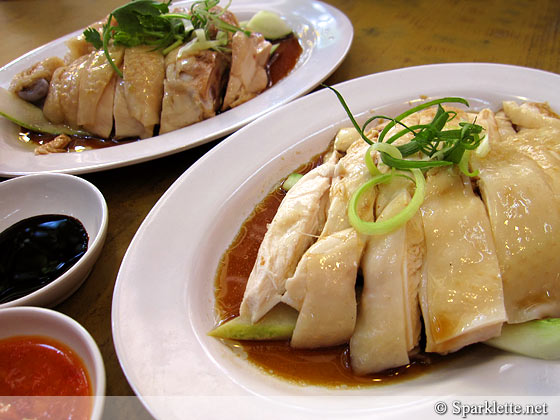 Hainanese chicken rice
S$4 for chicken breast / S$4.80 for a drumstick
Rating:





We order the rice with the steamed chicken served separately on the side. See how the skin glistens! Do you belong to the group that throw the doctor's advice to the wind and eat it all, skin included, or do you carefully peel the skin away and eat just the flesh?
The chicken breast (my favourite part) is tender and moist even though it may well be the driest part of the bird. The star of this dish however is the sweet sauce that the meat is soaking in. I find that for chicken rice to be delicious, this sauce is the key. And this one is just wondeful – flavourful and fragrant with sesame oil, just the way I like it.
The rice is pretty decent, too, though paling in comparison to Tong Fong Fatt's fragrant rice.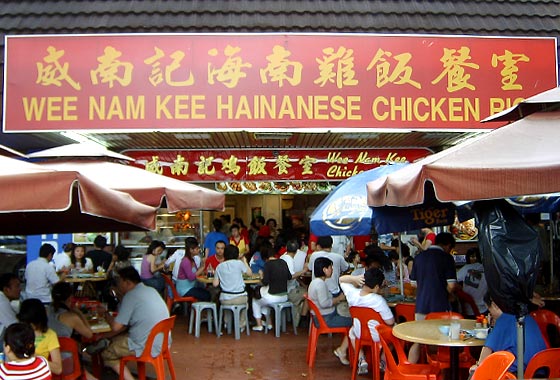 Photo credit
Nonetheless, a good plate of Hainanese chicken rice is a find. Despite the brisk business, the staff are very quick and prompt in taking our orders and serving the food.
Have Your Say!

Loading ...
Where can you find the best Hainanese chicken rice in Singapore? Share with us in the comments!
Wee Nam Kee Hainanese Chicken Rice Restaurant
威南记海南鸡饭餐室
Delivery: +65 6255 6396
Website
Wee Nam Kee Hainanese Chicken Rice Novena
Novena Ville
275 Thomson Road #01-05
Singapore 307645
Tel: +65 6255 6396
Bus services: 5, 21, 54, 56, 57, 131, 143, 162, 166, 167, 851, 980, NR1, 162M
Nearest MRT: Novena
Opening hours: 10:30am – 2am daily
Wee Nam Kee Hainanese Chicken Rice Katong
112 Katong
Food Republic
112 East Coast Road
Singapore 428802