I have heard a lot about Fook Seng GoldenHill Chicken Rice online. This is a small coffee shop perched at the top of the hill in the quiet Jalan Rumah Tinggi residential estate. The area is accessible by the bus service 63. This is also where you would find Singapore's smallest bus terminal, with just a single bus service that terminates here.
Despite its little known location, many netizens have flocked here and given verdicts to the effect of "fragrant rice", "tender, juicy chicken" and "chilli packs a punch!" Is it really that good?
So my Mom and I come by to check it out. True to its fame, the seats are fully occupied by a largely office crowd from the neighbouring workplaces at lunchtime.
Our verdict: While the chicken rice does not live up to its hype, the raw fish salad alone is worth the trip!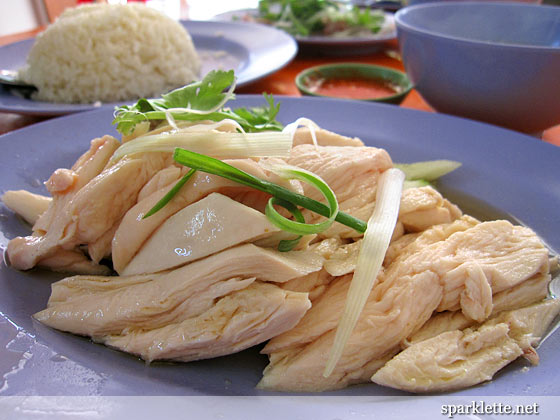 Hainanese chicken rice
S$2.30 onwards for a plate / Above: S$6 worth of chicken
Rating:





We order rice and a separate portion of chicken for sharing. As seasoned eaters of Hainanese chicken rice, we realise immediately that the portion is much smaller than usual. Don't believe me? Compare it with Sin Heng Kee in the same neighbourhood.
The skimpiness of the portion wouldn't have mattered if the food tastes good. As you can probably tell from the picture above, the chicken slices are dry and bland with little sauce. Is this meant to be a healthier option with less sesame oil and fat? Coming from a place that touts itself as "probably the best chicken rice in Singapore", this whole dish has turned out to be a major disappointment!
For truly flavoursome and fragrant Hainanese chicken rice, the Tong Fong Fatt chain remains our choice for now. There's one at the nearby ABC Market.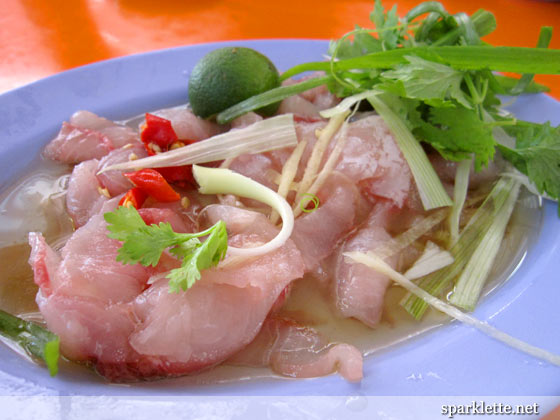 Raw fish salad
S$2 / 3 / 5
Rating:





Fortunately, our side dish of raw fish salad fares a whole lot better. In fact, we notice that every table has ordered raw fish on the side.
This alone makes a trip here worthwhile.
Basically, this has what the chicken lacks – flavour, lots of it. For just S$2, you get ample slices of snakehead fish drenched in sesame oil, shallot oil, light soy sauce with a dash of lime and chilli!
Have Your Say!

Loading ...
Where can you find the best Hainanese chicken rice in Singapore? Share with us in the comments!