In the future, everyone will be world-famous for 15 minutes.
When Andy Warhol said this in 1968, it gave rise to the expression "15 minutes of fame". With Youtube, blogs and the sheer number of reality shows these days, it sure looks like anybody can easily get his dose of fame!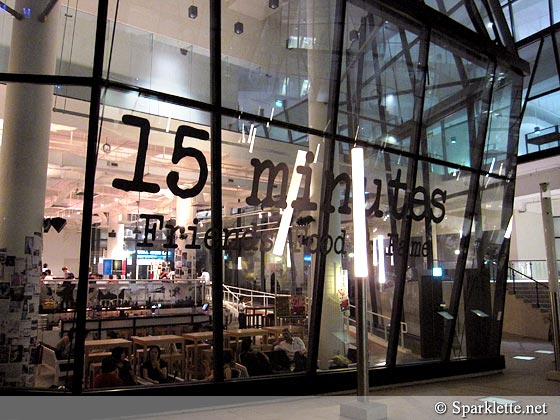 And now, the 15 minutes café at the LASALLE College of the Arts offers aspiring musicians a stage and their 15 minutes of fame.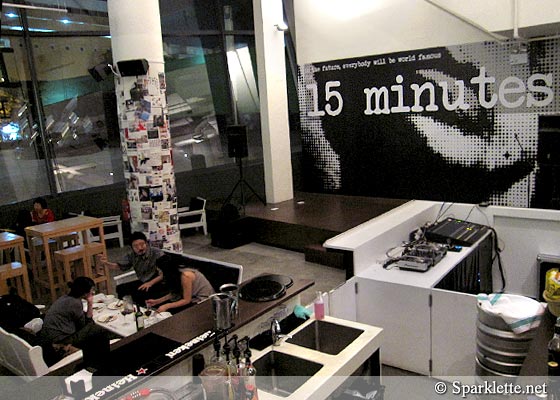 It's a big hit with the young crowd!
With its lofty ceilings, long tables and floor-to-ceiling windows, the atmosphere at 15 minutes is that of a large, jovial cafeteria. The bar area on the lower floor comprises of tall tables, comfy lounge seats, a deejay station and a stage. Bands perform here live every Friday and Saturday.
The crowd here is largely the college students, although the café is also open to members of the public.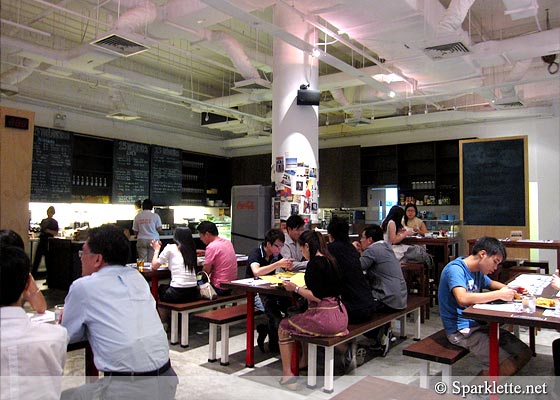 On an elevated platform lies the main dining area. This section is decked out like a school canteen, with long wooden tables and benches and menus written on chalkboards. The food served are the standard Western fares such as pastas, pizzas and fish and chips.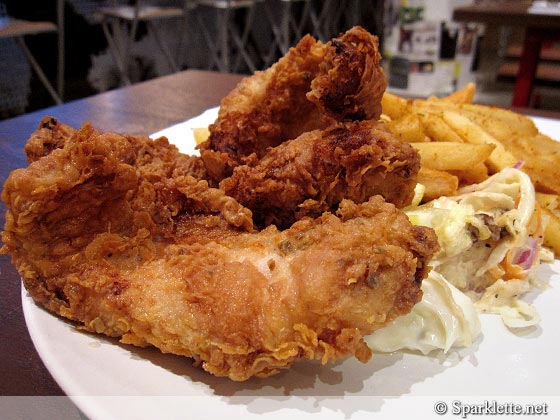 Fish & chips
S$12.90++
Rating:





One of the house specialties is the fish and chips, an ample portion served with homemade coleslaw and Cajun fries. The crumbed skin of the dory is light and crispy, while the inside is fleshy and moist with no fishy stench. The tartar sauce makes a delightful dip, too. Nice!
Even with the awesome cheese-stuffed fish and chips at Fish & Co as a benchmark, this one still impresses!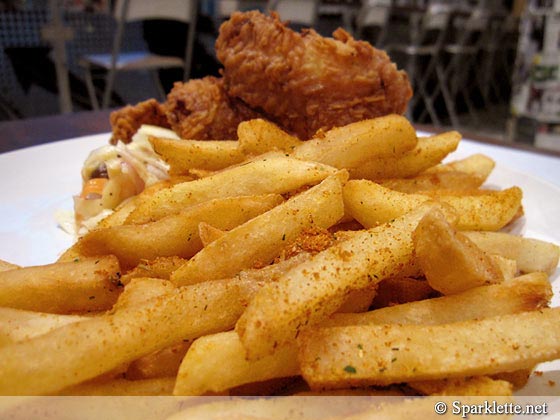 Extra cookie points are awarded to the accompanying Cajun fries. If you have tried the fries at Popeyes, you would love the ones here, too. Tinged in Cajun spices, these fries are tasty and crunchy!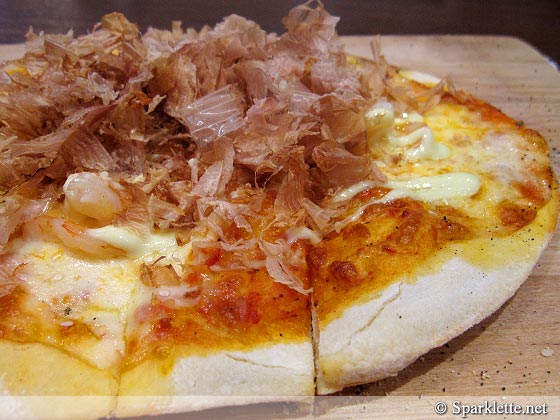 Wasabi prawn pizza
S$9.90++
Rating:





We also venture into the pizzas and go for the wasabi prawn pizza. Done fusion style with tomato sauce, cheese, prawns, sesame seeds and wasabi mayo sauce, this pizza looks really good on paper!
This pizza is lacking pizzazz.
For someone that loves wasabi, it is hard for me to not like a dish with wasabi in it. And that's where this dish falters. There is almost no hint of wasabi in it at all, or cheese, or tomato sauce for that matter. What gives? To be brutally honest I actually have a hard time eating this one.
(Speaking of which, here's a wasabi joke: What did Sushi A say to Sushi B? … What's up B?)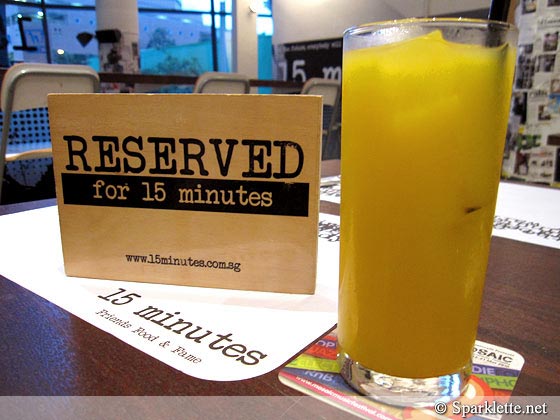 Orange juice
S$4.50++
Rating:





The orange juice tastes suspiciously like orange syrup water. Hmm. That wooden reservation sign is a nice touch though!
Overall, this is a great place for chilling out with friends. Love the relaxing ambience! But next time round I'm going for a cold beer and some fish and chips. Also, it would be just perfect if they play Michael Jackson as opposed to the hip-hop that night. All right, I'm aware that I'm probably just wishing for the moon (pun intended).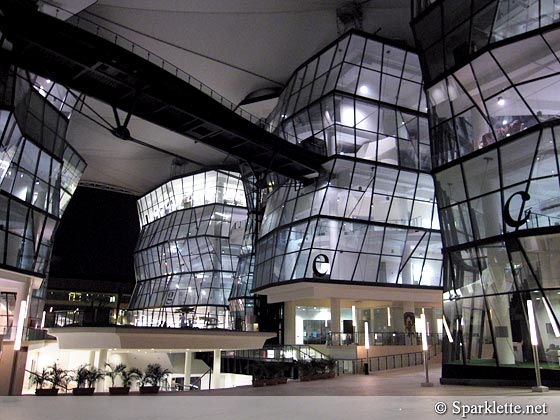 On a side note, how snazzy is the school building? It's totally befitting of an arts college. Wow!
Have Your Say!
Are there any caf&#233s and restaurants on your school campus worth visiting? Share with us in the comments!
15 Minutes
LASALLE College of the Arts
1 McNally Street Block D #01-01
Singapore 187940
Tel: +65 6333 5915 |
Website
Service:





Bus services: 23, 48, 56, 57, 64, 65, 66, 67, 131, 139, 147, 166, 170, 851, 857, 960, 980, 1N, 2N, 3N, 4N, 5N, 6N, NR6
Nearest MRT: Bugis, Little India
Opening hours: 11am – 11pm (Mon-Thur & Sat), 11am – 12midnight (Fri) (Closed on Sundays)