I was in Kuala Lumpur, Malaysia, for a short trip last week. One of the things on my to-do list was to dine at Nando's Peri Peri Chicken Restaurant, the UK fast food franchise specialising in the Afro-Portuguese peri peri (or piri piri) chicken. (Whoa, that's one multi-national chicken!)
My first peri peri experience was at AJ's Piri Piri Chicken, another UK franchise that is modelled after Nando's. Their chicken didn't wow me. So I was very much looking forward to checking out one of the many Nando's outlets scattered across Malaysia.
The spicy chicken here even comes with a cute little flag that indicates the spiciness level on the "Peri-O-Meter". That's like what some people do for burgers!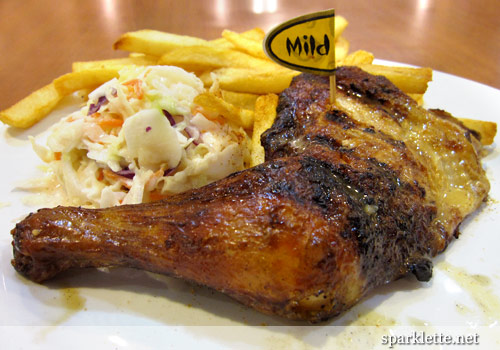 ¼ chicken with 2 sidelines
RM$14.50+ + 5% government tax
Rating:





I order the classic chicken to get a taste of the peri peri sauce. For a quarter chicken, the size is ample. Even though there may be no visible sauce on the dish, the meat certainly is packed with flavour, the result of 24 hours of marination before being flame-grilled to perfection.
If you like your food salty, sour and spicy, then you would absolutely love peri peri chicken. For me personally, I do prefer some sweetness in my spices and curries, so I haven't really taken a liking to it. I'm just glad that the sweetness of the coleslaw balances out the sourness.
As indicated by the coloured flag, the "mild" spiciness level is really comfortable. I think most people, first-timers included, can handle the next degree of spiciness, "hot", well.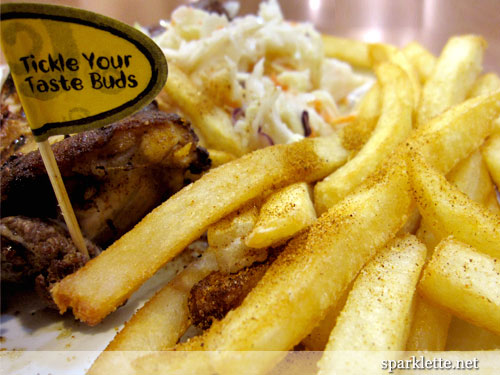 All chicken meals here come with two side dishes. I choose peri chips and coleslaw, among others like old style chips, Mediterranean rice, peri corn, peri potato salad, grilled veggies and fresh salad.
The chips are sprinkled with peri powder. If you are like me, you would definitely need some sauce to dip the chips.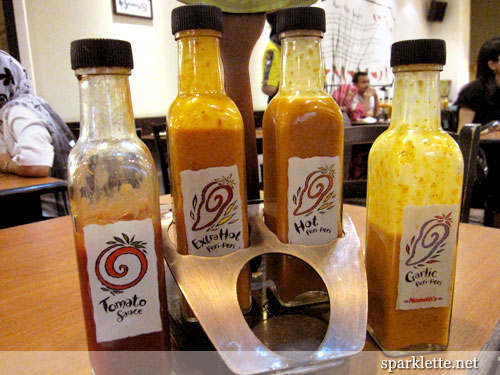 Each table comes with four different types of sauce – ketchup, extra hot, hot and garlic peri peri sauces. After sampling the latter three, I find that they aren't THAT spicy!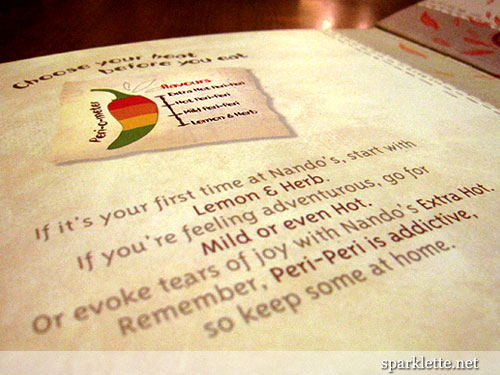 Here's the aforementioned Peri-o-metre that allows you to "choose your heat before you eat". Despite what they say, the "mild" sauce is unexciting and does not provide much of an adventure. I find myself reaching for the extra hot peri peri sauce most of the time!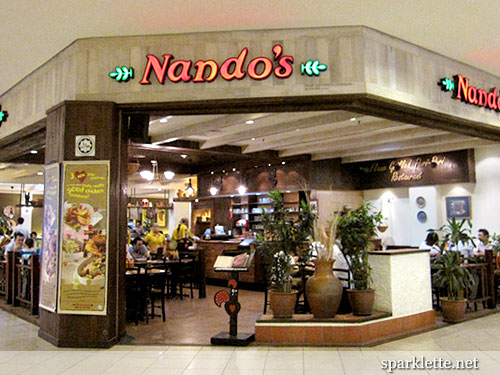 I think I must be among the minority that aren't a fan of the peri peri chicken. Heck, they don't need my business anyway; the restaurants are already packed all the time!
Attached Nando's menu here for your reference. Dine happy!
Nando's
(

Halal certified
)
All outlets
Kuala Lumpur, Malaysia

Website