I really enjoy eating, as I'm sure most people do. Thanks to increased awareness and better education on the importance of nutrition, we are becoming more sophisticated consumers. During chow hours, you would probably go for the heart-healthy and waist-friendly kind of food.
At The Sentosa Resort & Spa (not to be confused with the new Resorts World Sentosa), one of its restaurants, aptly named The Garden, encourages conscious dining. In fact, all the dishes feature organic ingredients where possible, and a large selection of salads and vegetarian options.
I must admit though. When I was first invited here for food-tasting, I was quite skeptical. Healthy greens may be good for the body, but they hardly appeal to me! But boy, was I in for a surprise! This is one of the most enjoyable meals I've had in recent months. In fact, it pleased me so much I even did a bit of live blogging from the restaurant on our Facebook Page. Oh yeah, do join us there if you haven't, okay?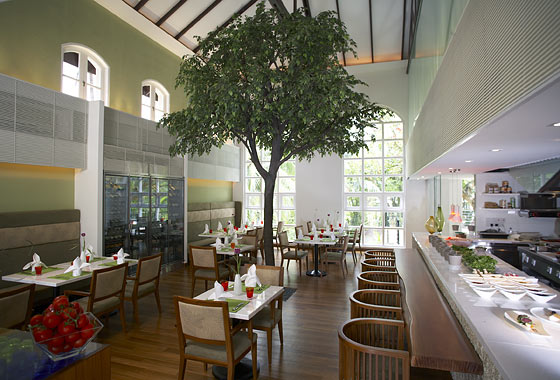 What do gardens come with? Plants, of course! The Garden features a tree as the centrepiece. This is indoor! Can you tell if the tree is real? Apart from this, there is also outdoor dining by the pool. Percy, the resident peacock, may even strut by to say hello!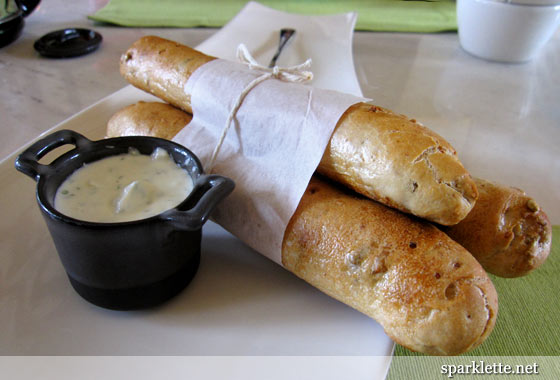 The bread sticks are speckled with seeds and nuts, and they come with a delicious yoghurt dip.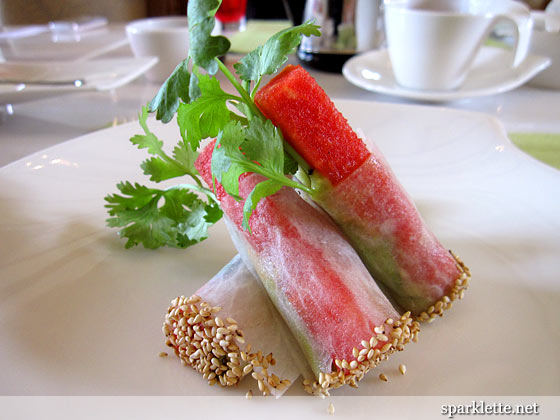 Watermelon Daikon roll
S$18++
Rating:





We start with the watermelon Daikon rolls. They look like crab sticks, don't they? Truth be told, I would have preferred if these were in fact crab sticks. There is supposed to be snapper sashimi, shredded cucumber and rocket shoots with Ponzu sauce in this, but mysteriously, I see only the watermelon and greens!
The Salad
The salad range takes up two whole pages of the menu, plus a third page for vegetable and fruit blends. You can concoct your own blends or construct a salad using 8 ingredients. At one glance, the ingredient selection for the salad seems to comprise everything under the sun!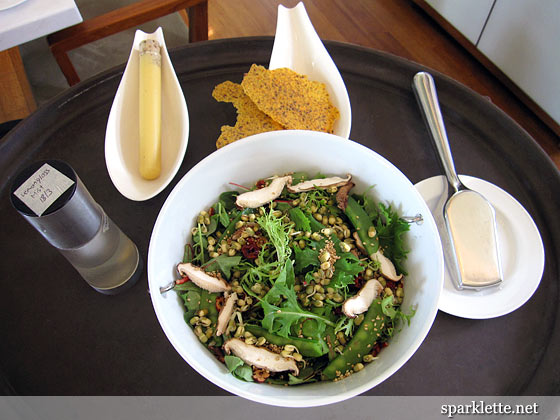 Qi Revitalising
S$18++
Rating:





Undecided, we go for the Qi Revitalising salad with pre-selected ingredients including mung beans, Shiitake mushrooms, sesame seeds, snow peas and red dates. I like that the waitress brings over the whole "set" and enthusiastically does the mixing and tossing in front of us.
The set includes orange vinaigrette with tofu emulsion and a light spraying of lemongrass mist. Those wafers at the top are in fact black seed crisps.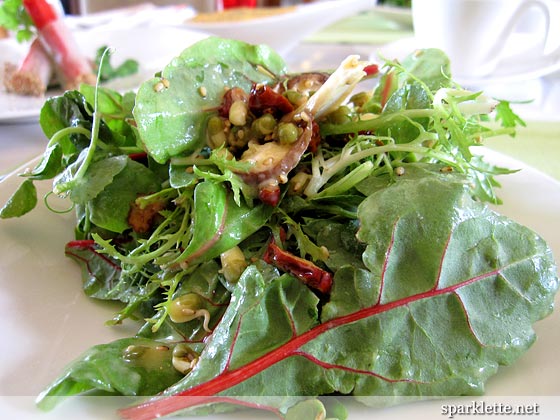 The salad is served in what can only be described as a bucket! Huge portion! Even when shared amongst a party of three, each person still gets an ample portion.
The Main Courses
While many of the dishes here feature vegetables extensively, the emphasis is really on conscious dining. So you would still find a nice selection of seafood and meat dishes cooked in a healthful way. Yay for me!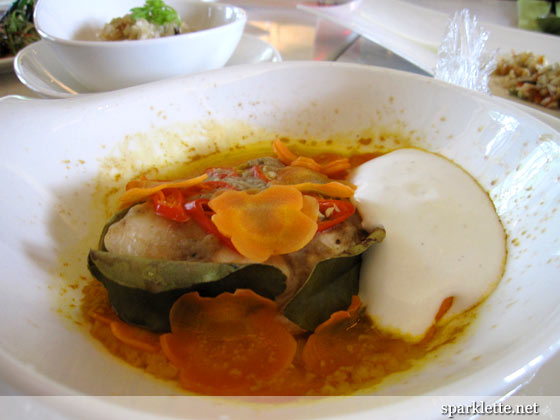 Parchment baked snapper
S$36++
Rating:





One of my most favourite dishes here is the baked snapper. It is soaked in a thick gravy that tastes very much like the robust Thai sweet curry; complete with lime and lemongrass, just without the spice.
Coconut foam is added, which lends a sweet undercurrent that is vital for a dish like this. I am somewhat suspicious of it though. Coconut milk is notorious for being high in calories and saturated fat. Is coconut foam much better?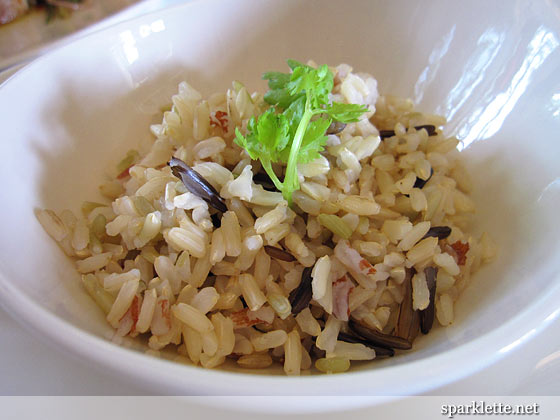 Accompanying the baked snapper is a bowl of brown rice, which I learn is the main choice of rice served here.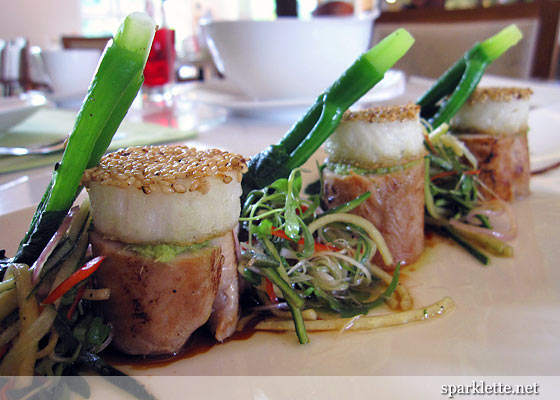 "Chicken rice"
S$39++
Rating:





The other main course that impresses is the signature "chicken rice". Note the quotation marks :) I'll explain. This isn't your typical chicken fat and sesame oil laden Hainanese chicken rice, but a more heart-healthy rendition.
The organic chicken breast is marinated in ginger-soy and paired with sauteed kai lan vegetable. The style seems more European than Asian. While I'm not jumping up and down over the rice, which is pressed like ketupat, the chicken scores points for being extremely appetising. I must stress that this isn't anything like the Singapore version of Hainanese chicken rice, nor does it pretend to be. A dish like this stands on its own.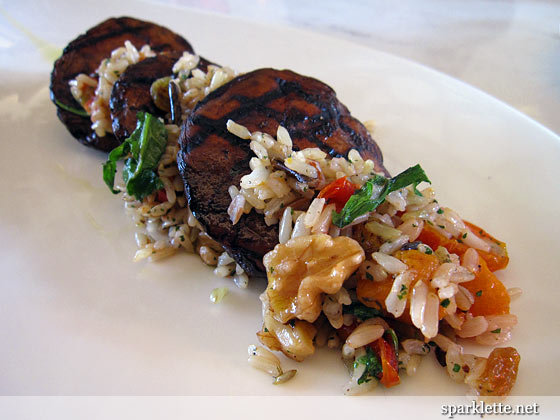 Grilled Portobello mushrooms
S$30++
Rating:





The third favourite dish for the day is the grilled Portobello mushrooms, served with rice, roasted pumpkin, walnut and golden raisins. I believe my first reaction upon biting into the mushroom was a dramatic "Whoa! How juicy!" The succulent juices that ooze with every bite provide burst after burst of flavour. I think it has done enough to oust Jerry's deep fried mushrooms from their longstanding position as the single most delicious mushroom item I have ever placed in my mouth.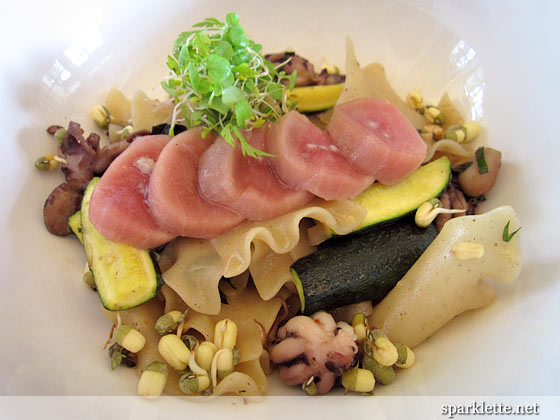 Organic wheat germ pasta
S$29++
Rating:





What I find more forgettable is the organic wheat germ pasta with tuna and octopus confit. It fits nicely into my initial impression of healthful food – nutritious, but bland and unexciting.
The Drinks
After sampling the TWG Tea at One Rochester, we are thrilled to unearth an even bigger range of teas from this renowned homegrown company at The Garden!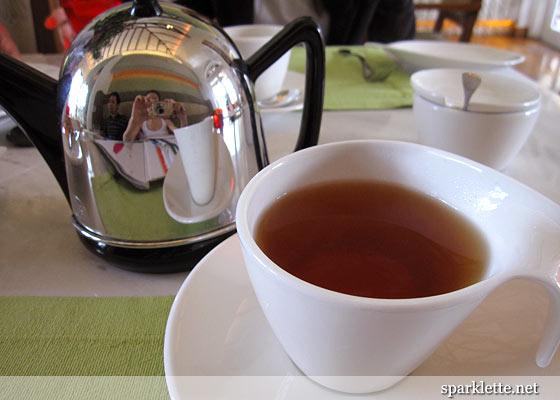 TWG Tea Fruit Mountain tea
S$8.50++
Rating:





This time round, we opt for the Fruit Mountain tea which has the same delightfully sweet and fruity scent as the signature 1837 black tea. It is served in a tall glass that looks interesting but is not exactly practical.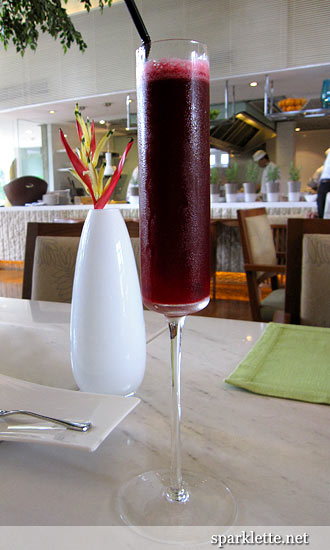 Detox blend
S$13++
Rating:





Of course, in line with conscious dining, you can have your pick from one of the signature blends, such as the Detox blend of apple, celery, beetroot and ginseng. Celery appears to be the primary flavour, while the ginseng is more of an undertone (but you do taste it).
The Desserts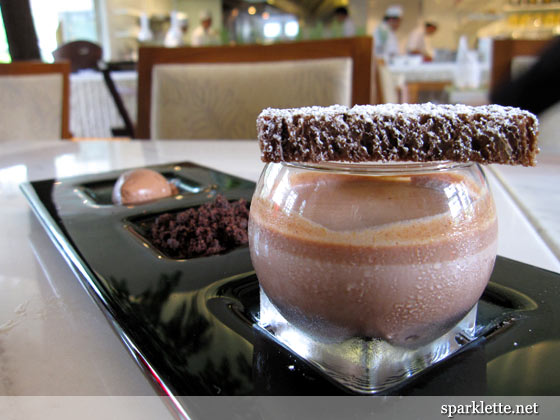 Organic chocolate
S$17++
Rating:





As a huge chocolate lover, I make a beeline for the organic chocolate. It arrives as a trio of smoked chilli pudding, chocolate crumble and chocolate ice cream (that doesn't seem to melt!). Of the lot, the ice cream is the richest and yummiest. I still find chocolate to be most gratifying when it is in its unabashedly sweet and fattening form.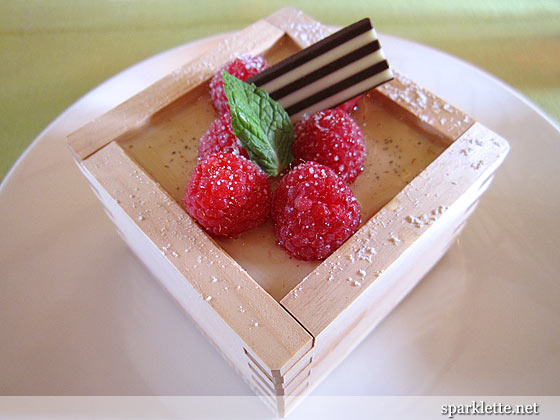 Soy bean panna cotta
S$15++
Rating:





If you like tau huay, you would fall in love with the soy bean panna cotta. After some prodding, we learn that this sweet dessert is made from cream, gelatin and soy bean obviously, and topped with lemongrass syrup. (Activity: Count the number of times "lemongrass" has appeared in this post!) This is one of those desserts that you can indulge in guilt-free and it tastes really, really good! Ohhh… I can eat this everyday!
Some afterthoughts
This is one of the most memorable and satisfying meals I've had in recent memory. I'm not just saying it because of the kind invitation from The Sentosa. As with all the restaurant and hotel reviews here, my principle is to keep it real and honest. Whether the meal is paid for from my own pockets or a complimentary invited session (for which I paid with my time and effort) is irrelevant. Either way, you would read the exact same words here.
After this meal, it really opened my eyes to the world of conscious dining and delicious, healthful food. We thank Michelle Yin and The Sentosa Resort & Spa for a truly wonderful and nutritious meal.
One more thing, if you're driving or cabbing in to The Garden, head straight for Spa Botanica. That's where you would find the restaurant. The sign may not be that prominent, so just ask any of the friendly resort staff around :)
Have Your Say!

Loading ...
What are the restaurants that you would recommend for a healthy meal? Share with us in the comments!
The Garden
Spa Botanica, The Sentosa Resort & Spa
2 Bukit Manis Road
Sentosa
Singapore 099891
Tel: +65 6371 1130 |
Website
Service:





Opening hours: 10am – 10pm daily