Update: Here's the compilation of the mooncakes in Singapore for 2010.
It's mooncake season! Many families, mine included, are busy checking out catalogues and shopping for mooncakes. The mooncakes these days come in a dazzling array of colours, flavours, shapes and sizes. Finding the best one to enjoy at home or to give away to relatives is certainly no simple task!
To aid you in your mooncake selection, I have compiled a list of 12 mooncakes you don't want to miss in 2009.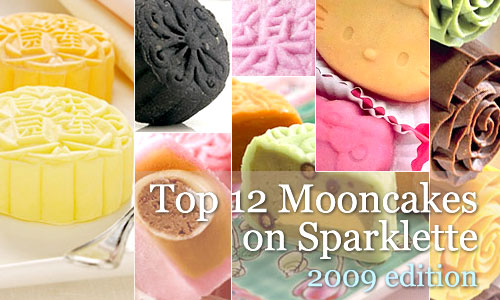 So gather your family and pets 'round the computer, and let's count down the 12 most interesting and delicious mooncakes you can find in Singapore this year!
---
1. Tung Lok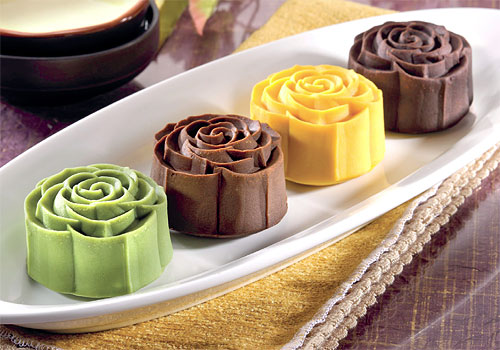 These gorgeous mooncakes belong to the new Royale series from Tung Lok. When it is made by the Tung Lok Group, you know it's got to be good!
The pastry is first baked, before being chilled, a process that gives the skin a crunchy texture. Sounds intriguing? This marks the debut of the first baked-and-chilled mooncakes in Singapore!
They come in three flavours:
– Green tea with chestnut lotus ($42.80 for 8)
– Hokkaido milk with mocha ($42.80 for 8)
– Custard ($44.94 for 8)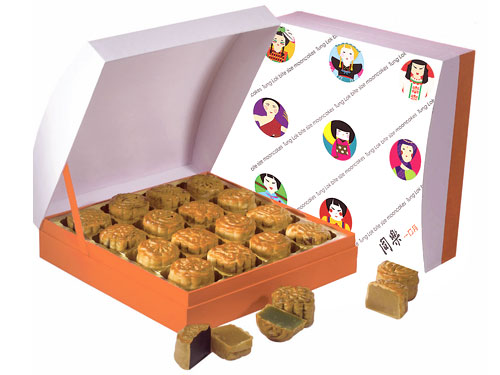 I must also highlight the adorable bite-size mooncakes that are even smaller than your usual mini mooncakes. They come in eight flavours such as pomelo white lotus, strawberry, purple potato and longan red date. ($47.08 for 16; two of each flavour)
Besides the convenience, I think that these dainty pastries may actually help reduce overeating! Well, unless people start popping them like popcorn, of course.
Tung Lok
Tel: +65 9088 8008 |
Website
2. Peony Jade
Fruits have made a foray into our favourite pastry this time of the year. Durian, the King of fruits, is undoubtedly the most commonly used fruit. Almost every merchant has a D24 durian mooncake on its menu.
Now, it looks like the "lesser" fruits are putting up a good fight, too! Check out the range of fruity mooncakes by Peony Jade restaurant.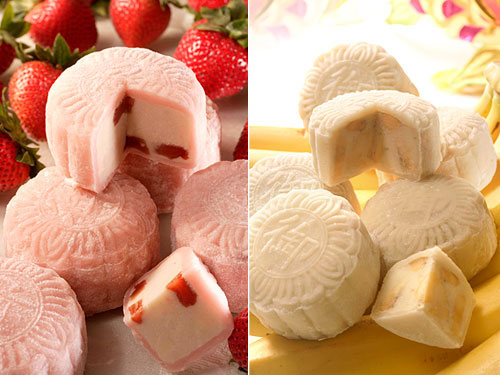 Fancy tucking into these strawberry ($42 for 4) and banana ($40 for 4) mooncakes? They contain smooth, rich low fat yogurt. Notice that chunks of fruits are present, too!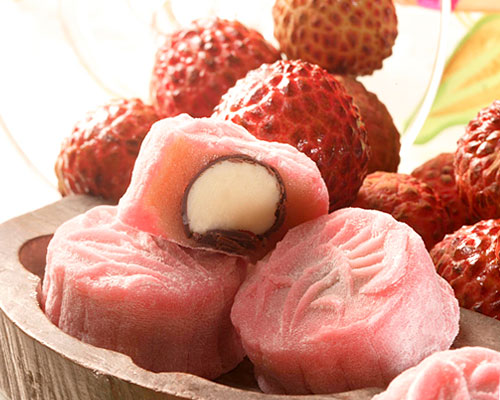 The alcoholic Lychee-tini and ganache flavour really takes the cake! This is a limited edition offering that features a liquorice truffle at its core, filled with the taste of what happens to be my favourite cocktail, the lychee martini! ($45 for 9)
Peony Jade
– 3A Clarke Quay #02-02, Tel: +65 6338 0305
– Keppel Club, Bukit Chermin Road, Tel: +65 6276 9138
Website
3. InterContinental Singapore
Man Fu Yuan Chinese restaurant at the InterContinental Singapore has a range of beautiful and meticulously-created mooncakes. Back by popular demand is their mini snowskin mooncake filled with Japanese sweet potato paste and champagne chocolate. ($42.80 for 8)
What's new this year?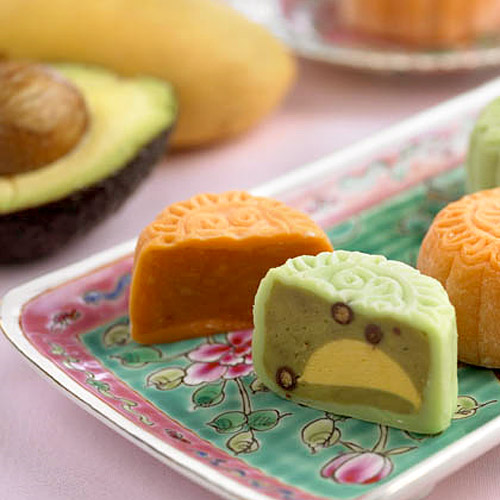 Snowskin mooncakes filled with cempedak, or avocado and mango mousse. Another fruit-inspired creation! The fresh fruits are blended and made into a paste, with mini cubes and pulp of the fruits thrown in for good measure.
The whole pastry is entirely made of fruity goodness with no extra additives. Oh, except for the fact that chocolate pearls are included, too. Good stuff! ($42.80 for 8; four of each flavour)
InterContinental Singapore
Man Fu Yuan
80 Middle Road
Singapore 188966
Tel: +65 6825 8519 / 8520 |
Website
4. The Fullerton
From the ultra posh Fullerton Hotel, we would expect nothing less. Aside from their bestselling chocolate baileys snowskin mooncake ($52 for 4), they also have the 15 Treasures premium gift set.
This lavish set contains 14 blocks of assorted baked mooncakes, all with varying fillings. What's the 15th treasure, you ask? Well, it's the centrepiece of a 6-inch-wide mooncake with 8 yolks. 8 yolks! Now, THAT is a full moon. ($168)
Then, they also have these milky-coloured snowskin mooncakes.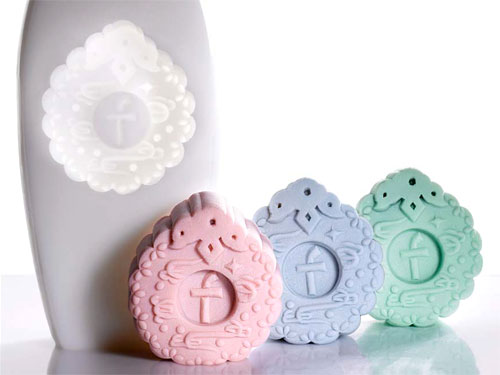 Do not mistake them for bars of soap. Available in cranberry, blueberry and green apple flavours, these mooncakes are the hotel's new offerings for 2009. The shape looks really exquisite, too, especially with that depression in the middle. ($52 for 4)
The Fullerton
1 Fullerton Square
Singapore 049178
Tel: +65 6877 8188 |
Website
5. Kia Hiang Restaurant
Not to be outdone by the east-meets-west creations of the big players, the more than 30 year old Kia Hiang Restaurant has whipped up several creative new flavours. Bak kwa mooncake, anyone? Yep, yep, they have it.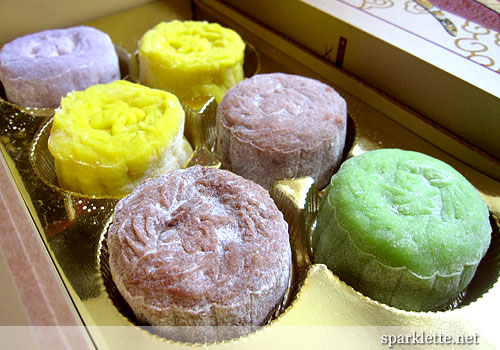 More tantalising flavours include durian, chocolate with rum and raisin, green tea, and the creamy blueberry and cheese. For more, check out my full review of Kia Hiang mooncakes with pictures, ratings and prices.
Kia Hiang Restaurant
201 Kim Tian Road #01-400
Singapore 160201
Tel: +65 6273 7352 / 6272 0087 |
Website
6. Carlton Hotel
Carlton Hotel has introduced three new snowskin mooncakes: lavender, wheatgrass & melon seed, and hazelnut & Nata de Coco ($47.08 for 8). Of these, lavender has got to stir the most curiosity!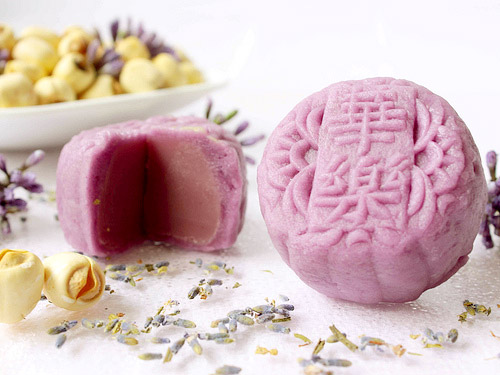 Credit
When I think of lavender, aromatherapy and air fresheners come to mind. Having this floral scent in a mooncake is definitely unusual! In this case, the aroma is subtle, infused perfectly with the white lotus paste. Any stronger, I'm not sure if it could remain as appetising.
Carlton Hotel
76 Bras Basah Road
Singapore 189558
Tel: +65 6349 1292 |
Website
7. Fairmont Singapore
Year after year, Szechuan Court at Fairmont Singapore never fails to wow its fans. This year, the restaurant continues its tradition of bringing impressive flavours to the table with the new pretty in pink feuilletine-hazelnut mooncake with wafer crunch nuts.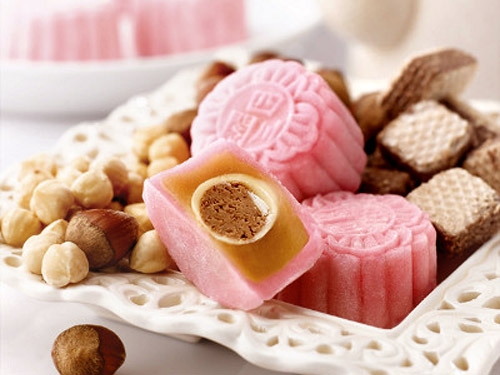 In place of the usual lotus paste, you get a velvety smooth hazelnut filling. At its centre is a white chocolate ball filled with Swiss chocolate and bits of wafer and hazelnut nuts. Looks like this little beauty is all good on the inside, too! ($45 for 8)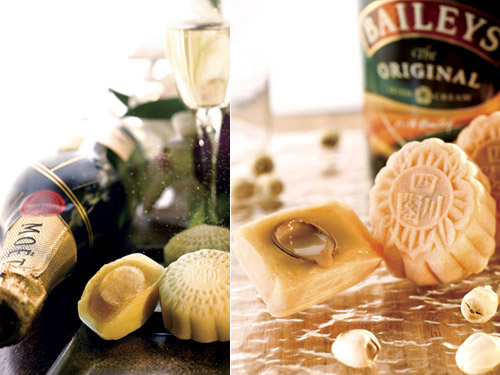 Like Raffles Hotel, Szechuan Court has a champagne truffle and ganache mooncake ($48 for 8). Peony Jade also has it this year. Does anyone know who first came up with this bestselling flavour?
Other flavours featuring liquor to bring a little high are rum and raisin chocolate truffle and baileys chocolate. What takes my breath away is the latter. That truffle simply screams of seduction! ($46 for 8)
Fairmont Singapore
Szechuan Court
80 Bras Basah Road
Singapore 189560
Tel: +65 6338 8785 |
Website
8. Concorde Hotel
For Muslim friends, check out the mooncakes of Concorde Hotel (formerly Le Meridien). They are certified halal!
Like Kia Hiang, the hotel has specially baked low sugar mooncakes that come with white lotus filling and yolk. Great for the health-conscious :) ($39/40 for 4)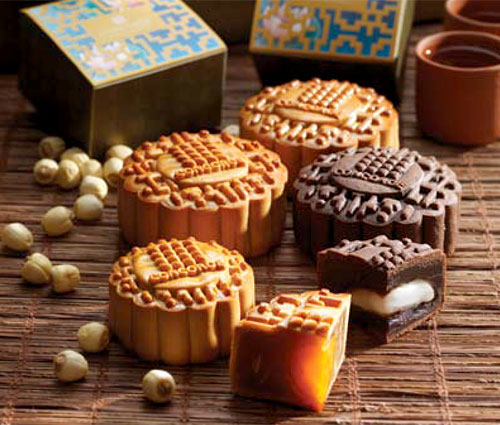 If you're not too concerned about the calories, go for the sumptuous Chocolate Omochi. With the soft and chewy mochi and all the rich chocolaty deliciousness, it's hard to resist this one! ($38 for 4)
Concorde Hotel
Spices Cafe
100 Orchard Road
Singapore 238840
Tel: +65 6739 8370 |
Website

Mooncakes are certified halal.
9. Polar Puffs & Cakes
Bet you didn't expect to see this one here. The bakery chain of Polar Puffs & Cakes continues its unique offering of cakes made in the shapes of cartoon characters.
Say hello to Hello Kitty!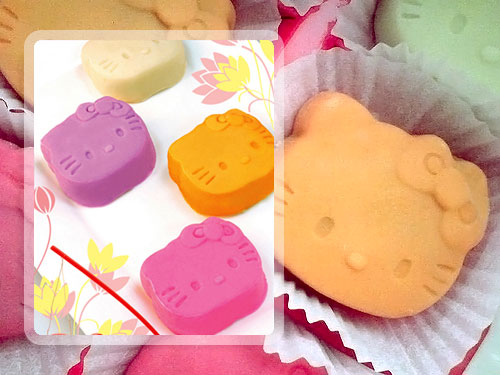 Ahhh! Aren't these the sweetest things? Perfect for families with little girls. Even older girls. Okay, girls. Hello Kitty comes in four flavours: white lotus, pumpkin taro, yam and white chocolate cheese. Everybody say yum yum! ($30.80 for 6)
Just when you thought that things can't get any cuter, they even give you a free Hello Kitty lantern with every purchase of a box of kitty mooncakes! I think Snowy would like that. Meow!
Oh yes, a reader highlighted that the bakery chain is also certified halal :)
Polar Puffs & Cakes
All outlets
Website

Mooncakes are halal certified.
10. Goodwood Park Hotel
Obviously, when we're on the topic of the best mooncakes, the good name of Goodwood Park Hotel always comes up. The hotel is famed for its tropical fruit mooncakes like mango with pomelo, durian, and cempedak.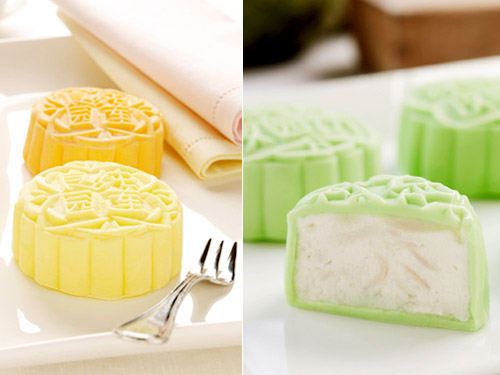 This year, Goodwood Park fans can welcome another new fruity flavour – soursop! We're talking silky smooth puree and juicy pulp made from the freshest soursops. The tangy taste may not be everyone's cup of tea, though, especially in a pastry that is traditionally sweet. But I know some adventurous people would take a liking to it.
All four flavours are available at $22 for two pieces and $40 for four pieces, except for durian that costs $26 for two pieces and $48 for four pieces.
Goodwood Park Hotel
22 Scotts Road
Singapore 228221
Tel: +65 6730 1867 / +65 6730 1868 |
Website
11. Bakerzin
Have you ever seen a black mooncake? Homegrown café chain Bakerzin has created the fascinating midnight-coloured mooncake, the sesame truffle.
This quirky mooncake gets its skin colour from bamboo charcoal powder. The filling is a combination of lotus paste and black sesame paste. In the midst of the dark filling is a ball of white chocolate ganache. What does that resemble? (Hint: Look out your window at night!) ($36 for 8)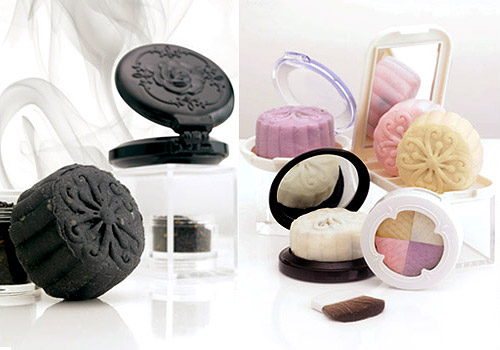 If black isn't your colour, go for lighter pastels. They have brandied cherry truffle, rum and raisin, pink champagne truffle, and malt whiskey truffle. ($36 for 8)
As you indulge in these exotic mooncakes, you may feel good about the fact that you are doing charity at the same time. For every box of mooncakes sold, Bakerzin will donate $1 to the Singapore make-a-wish foundation.
12. Raffles Hotel
Having raved about Raffles Hotel's legendary snowskin mooncake with champagne truffle and ganache again and again, you know it will make it to this list somehow.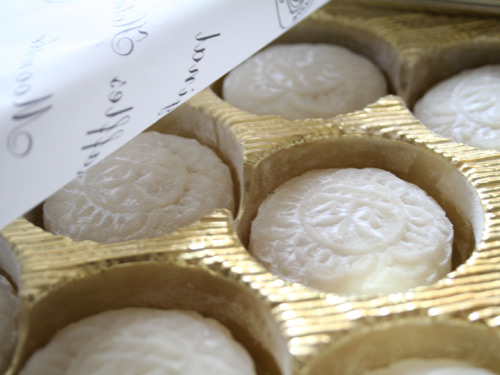 Credit
When friends seek my opinion for the best mooncakes to buy, this is the first that I would recommend. 'Nuff said.
And oh, here's my review on Raffles' delectable mooncakes.
Raffles Hotel
(North Bridge Road Entrance)
1 Beach Road
Singapore 189673
Tel: +65 6412 1122 |
Website
Bonus: Godiva
Look! The Godiva chocolatier has launched a Mid-Autumn collection, too!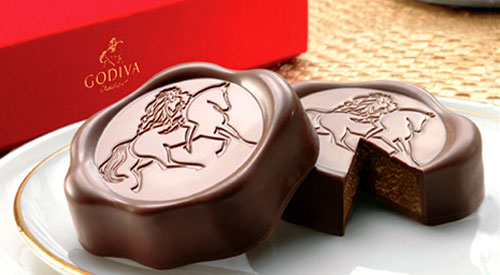 These Belgian chocolates are packaged like mooncakes, with 4 large pieces to a box. They are filled with classic praline and crispy bits of roasted hazelnut. I can live with that :)
Godiva
Tel: +65 6273 1611 |
Website
---
What a kaleidoscope of colours and flavours! These are, of course, my personal picks. I'm sure I have missed out many other excellent choices! Add your own picks in the comments and we can all share!
So, have you bought your mooncakes yet?
Want more mooncakes?
Bet you thought this was the end, didn't you? Nope, not quite :)
There is now a "remix" of this list! Yes, after doing more mooncake scouting, I uncovered more Mid-Autumn gems! I have compiled a list of 12 more mooncakes you don't want to miss.
Check them out!