Whatever your gastronomic desire or budgetary requirement, one thing for certain is that you won't go hungry at KungFu Paradise.
KungFu Paradise is a cheery café that offers a kaleidoscope of east meets west cuisines at friendly prices. Some of you may already be familiar with the Paradise Group which has restaurants such as Paradise Dynasty (with the colourful xiao long bao) under its wings. Compared to the other Paradise restaurants, KungFu Paradise is decidedly more casual and hip.
The menu reminds me of Hong Kong cafés like Xin Wang and C.Nai which boast similarly comprehensive and diverse offerings that appeal to both the young and the old.
Night owls would be pleased to know that KungFu Paradise opens past midnight everyday. You can have your pick from the Hong Kong-style classics, Asian delights, western favourites and desserts if you got the munchies at wee hours. (Here's a hot tip for you guys: From 10pm daily, you get a 20% discount off your food bill and a 50% discount off the pastries.)
With catchy dish names like The Trio Master, Flying Wings and Gripping Grape, you are in kung fu paradise indeed.
Snacks
For a quick bite, you can pick from the toasts and dim sum.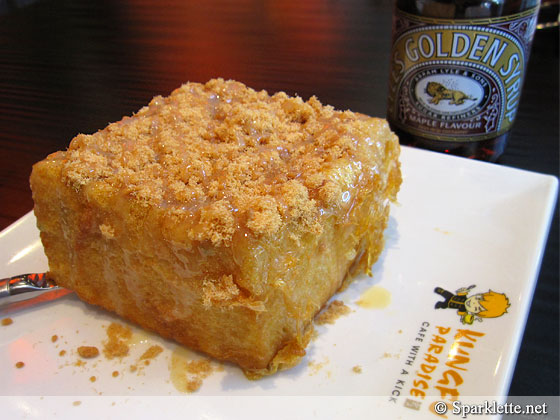 French toast with chicken floss & condensed milk
S$5.80++
Rating:





The French toast is deliciously coated with egg, topped with butter and maple syrup. I recommend the wholesome combination of toast with chicken floss and condensed milk. If you feel the need for even more oomph, throw on more syrup from the accompanying bottle.
Hot tip #2: If you spend $10 or more from 3 to 6pm on weekdays, you can enjoy the French toast and thick toast at just a dollar.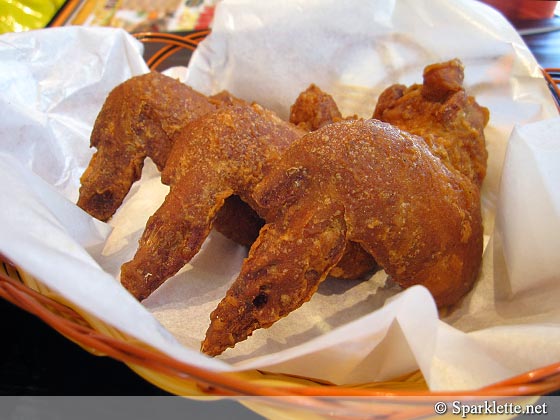 Flying KungFu wings
S$5.80++ for 3
Rating:





Even with its cheesy name, I'm a fan of the Flying KungFu wings. The chicken wings have an appealingly thin and crispy skin that yields to a tender and delightfully juicy core.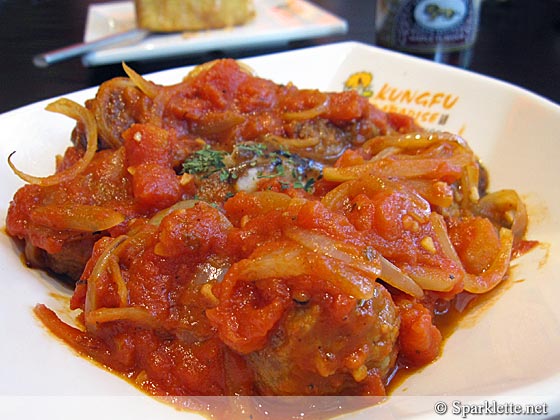 Balls on mash
S$9.80++
Rating:





With the large meatballs of minced beef and chicken that are drenched in tomato sauce and coupled with creamy mashed potatoes, the balls on mash can be a meal by itself.
Mains
The western classics section offers baked rice, pasta and grills.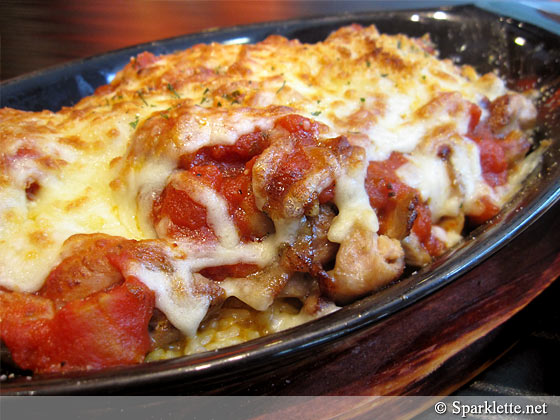 Chicken chop "babe" rice
S$9.80++
Rating:





One of the best-sellers is the chicken chop "babe" rice, a generous serving of chicken chop with tomato sauce over baked rice, topped with mozzarella cheese. No prizes for guessing where the "babe" comes from!
Hot tip #3: As one of the top 10 best-selling items, you can grab the "babe" rice at just $6.80 ($5.80 for students) on weekdays from 11am to 2:30pm (extended to 5pm for students).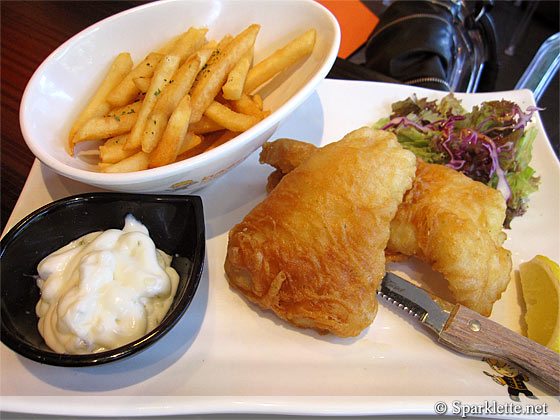 Fish & chips
S$9.80++
Rating:





The perennial western favourite fish and chips features a perfectly crisp breading and a moist white-fleshed fish, although the portion is somewhat on the skimpy side.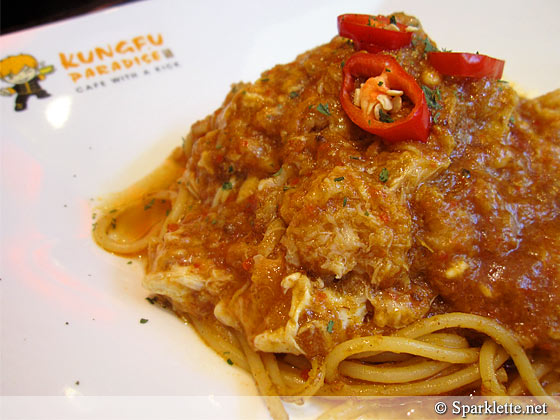 Flaming crab pasta
S$10.80++
Rating:





When it comes to fusion dishes, I usually keep an open mind. And the Flaming crab pasta does not disappoint. With that extremely spicy but oh-so-succulent and sweet chilli crab sauce, this dish is hot all right.
Desserts
For the sweet tooth, you can pick from the large variety of desserts and smoothies. In particular, I am most fascinated by the shaved iced dessert range. I am used to seeing the regular ice kacang, and it is the first time I am seeing shaved ice presented like this: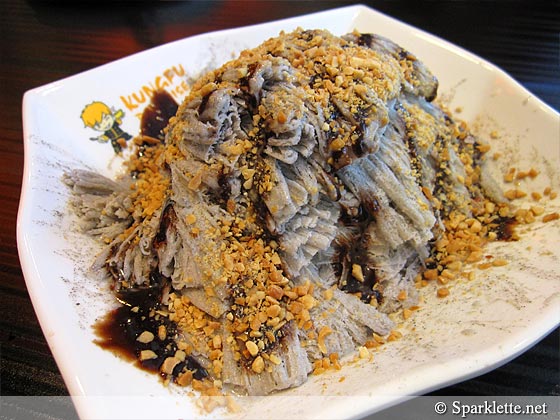 Crushing sesame shaved ice dessert
S$6.80++
Rating:





Doesn't it resemble a volcano, with the chocolate syrup running like hot lava down the sides? These refreshing shaved ice desserts are available in exotic flavours like green tea with Japanese red bean and champagne grape. My pick is Crushing sesame which features black sesame with crushed peanuts and chocolate sauce.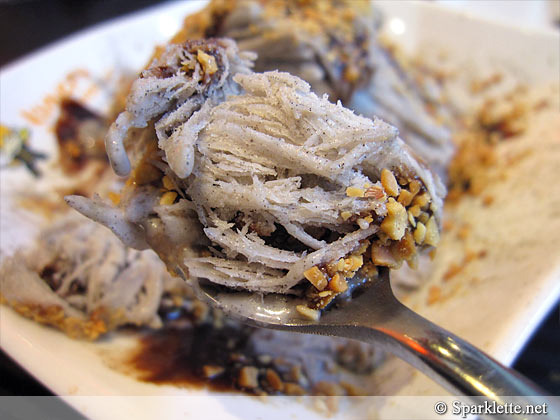 I really dig the fluffy texture of the shaved ice especially when it is paired with the crushed peanuts. It remains frozen for an extraordinarily long time!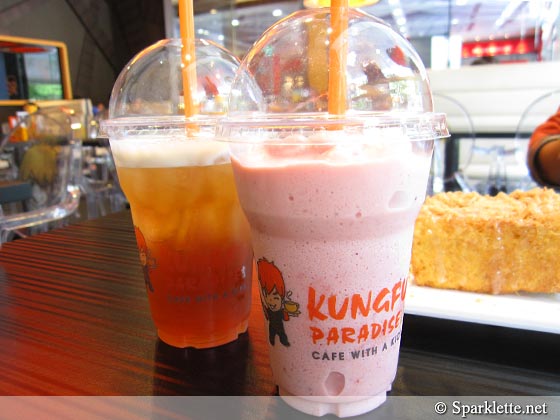 Strawberry orange smoothie
Rating:





One smoothie that you may wanna try is the summery strawberry orange, which tastes more berry than orange.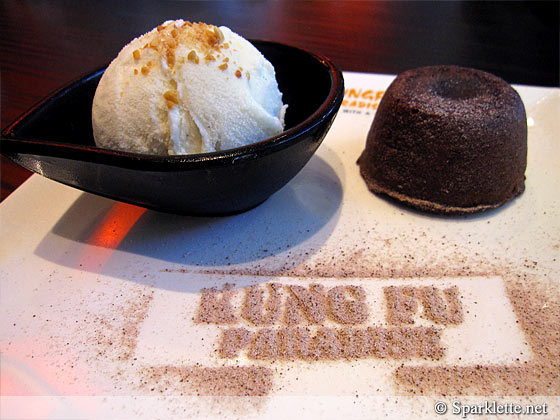 Chocolate lava cake with vanilla ice cream
S$6.80++
Rating:





As a huge chocolate lava cake lover, I just have to order the KungFu rendition. I've learned from bitter experience that this dessert is all too easily mucked up. Thankfully, the one here is benchmark, and at a great price too. Presentation-wise, don't you just love the extra bit of chocolate dusting in the corner revealing the name of the restaurant? That's what I call a sweet finale!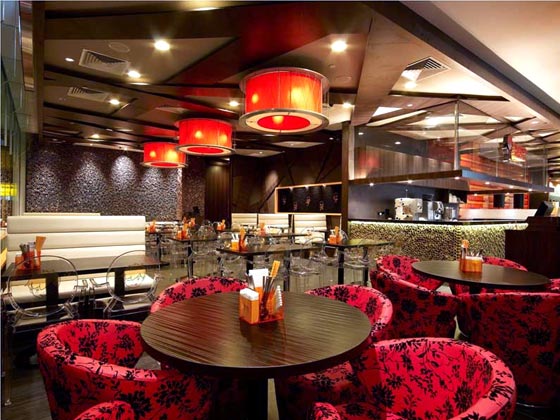 KungFu Paradise creates a comfy yet vibrant ambience with red and orange accents and plush armchairs. The multitude of tasty options and inviting atmosphere will keep you coming back for more. Fret not if Bedok Point is too far for you; a little birdie told us that more KungFu outlets would be opening in Singapore really soon. You heard it here first!
Sparklette Giveaway!
By now, your mouth is probably watering at all the yummy dishes. The good news is that we are giving away five S$30 dining vouchers that can be used at KungFu Paradise. Join the giveaway to win one!
Have Your Say!
How do you find KungFu Paradise? Share with us in the comments!
KungFu Paradise Bedok
Bedok Point
799 New Changi Road #01-01
Singapore 467351
Tel: +65 6242 0788
Opening hours:
Mon – Thu: 11am to 2am
Fri – Sun, Eve of PH & PH: 11am to 3am
KungFu Paradise Bugis+
Bugis+
201 Victoria Street #01-13
Singapore 188067
Tel: +65 6884 7375
Opening hours:
Mon – Thu: 11am to 2am
Fri & Eve of PH: 11am to 4am
Sat: 10am to 4am
Sun: 10am to 2am
KungFu Paradise JCube
JCube
2 Jurong East Central 1 #01-07
Singapore 609731
Tel: +65 6684 4606
Opening hours:
Mon – Thu: 11am to 2am
Fri & Eve of PH: 11am to 4am
Sat: 10am to 4am
Sun: 10am to 2am
KungFu Paradise Sembawang
Sembawang Shopping Centre
604 Sembawang Road #01-25/26
Singapore 758459
Tel: +65 6684 9737
Opening hours:
Mon – Fri & Eve of PH: 11am to 10pm
Sat & Sun: 10am to 10pm