Tiong Bahru Sketches Exhibition
Do you live in Tiong Bahru, or know someone who does?
Built circa 1930s, the Tiong Bahru estate is amongst the oldest housing estates in Singapore. It is also the only housing estate built by the British-administered Singapore Improvement Trust that is still in existence today, making it an icon in Singapore's landscape.
A group of four artists, Miel, Tia Boon Sim, Paul Wang and Don Low, have created over 40 beautiful sketches of the charming estate in pen, ink and watercolour. You can view their artwork at the White Canvas Gallery right in the heart of the Tiong Bahru estate itself! Whether you live in Tiong Bahru, or you just love the neighbourhood, you may wish to visit the exhibition.


Click to enlarge
Event: Tiong Bahru Sketches
Date: June 30 – July 17, 2010
Time: 12noon – 8pm (Closed on Sundays)
Venue: White Canvas Gallery
Address: 78 Guan Chuan Street #01-41 Singapore 160078
Notice the name of the street where the gallery is. Did you know that all the streets in the Tiong Bahru neighbourhood are named after Chinese pioneers of the 19th and early 20th centuries (Guan Chuan, Kim Pong, Seng Poh, Chay Yan, etc.)?
Enjoy Tia's video of herself drawing in a calligraphy fountain pen and watercolours. It's pretty amazing!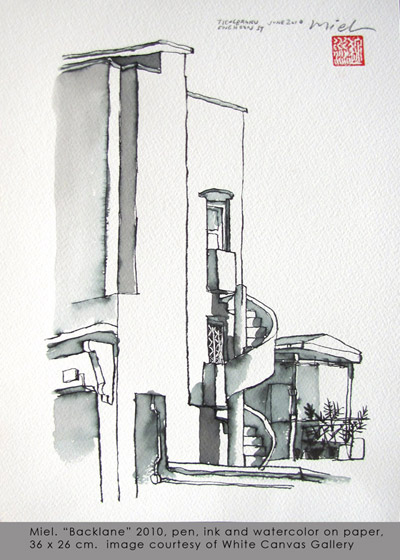 Click to enlarge
Rounded balconies, flat rooftops, spiral staircases, light wells and underground shelters are just some of the characteristics of the two to five-storey flats here.
If you wish to purchase a piece of art, it costs between S$250 and S$900.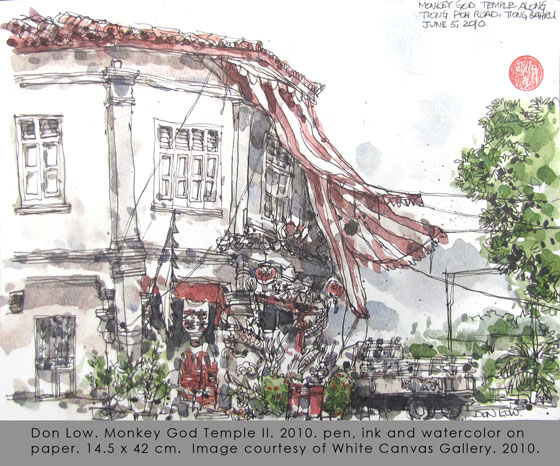 Click to enlarge
The four artists will also be leading a Tiong Bahru sketchwalk on July 17. Keen to pick up some tips from the pros? Gather your sketching materials and assemble at the gallery that day at 2pm! Oh yes, the event is free :)
While you are there…
Feeling peckish after visiting the exhibition? Head to Tiong Bahru Market for some nice lor mee or pork rib prawn noodle.
The neighbouring boutique hotels have some nice restaurants, too, such as Nectar at Wangz Hotel and Potion at Nostalgia Hotel.
Feel like taking a little walk? Hotel Re! on Pearl's Hill has wonderful set meals and international brunch buffet. Have fun!