Christmas Tree of the Day #9 (2006 Edition)
After an array of trees in various colours ranging from pink to gold, made out of materials ranging from diamonds to ginseng (well, the jury is still out on that one), here's a more traditional Christmas tree in its green glory.
This gigantic tree is displayed proudly at the Great Eastern Centre. According to the logic of South Park's Eric Cartman, all successful companies have their own fountains. I'm thinking this applies for Christmas trees as well. All successful companies have huge Christmas trees. This one is about two and a half storeys tall!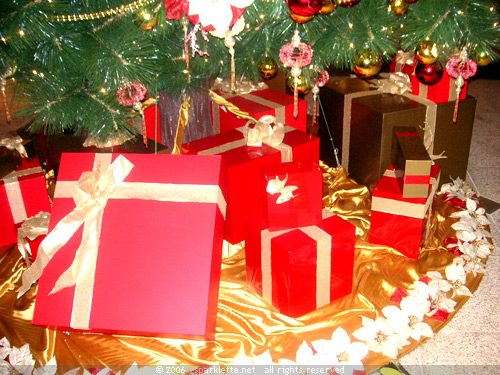 I rather liked the large boxes of presents under the tree too. They are in a Christmasy shade of red and cut out into perfect oblongs. Very nice!
For more Christmas trees, check out the Sparklette Christmas Tree of the Day series.