Good food sells. So does star power. Pair the two together and you've got a winning formula to drawing in the crowd. The never-ending line of customers at Porn's, the suggestively-named Thai restaurant at Liang Seah Street is testament to that fact.
Popular Singapore TV host Pornsak Prajakwit's venture into the restaurant business has attracted both fans and curious onlookers alike. According to the eatery's young waitresses, their reservations are full through the next two months! If you can't wait that long to try out Pornsak's Thai food and spot the man himself, you may have some luck doing what I did.
On the day when I had planned to head down to Porn's for dinner, I phoned in several times to reserve a table but no one answered. That very evening I headed down to try my luck anyway. They had just opened for dinner at 6pm, and was already full house! The waitresses apologised for not answering the phone all afternoon because reservations were already full. They penned down my name and promised to call us once a table freed up. Thankfully, it was only a half-hour wait, during which we enjoyed a nice Vietnamese drip coffee next door.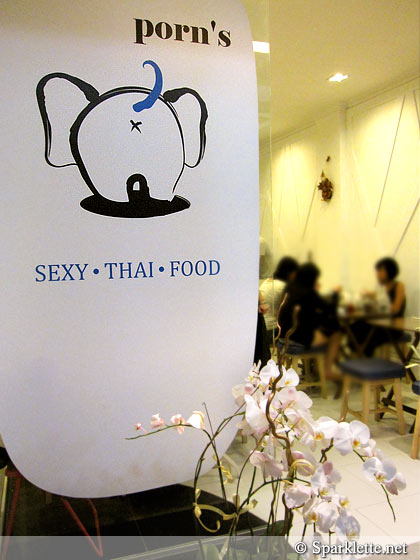 The premises are narrow, with tables spilling out into the corridor along the road. At the indoor seating area, white walls and a glass ceiling lend a clean and airy feel.
Even with a large crowd, all our orders arrive within 20 minutes.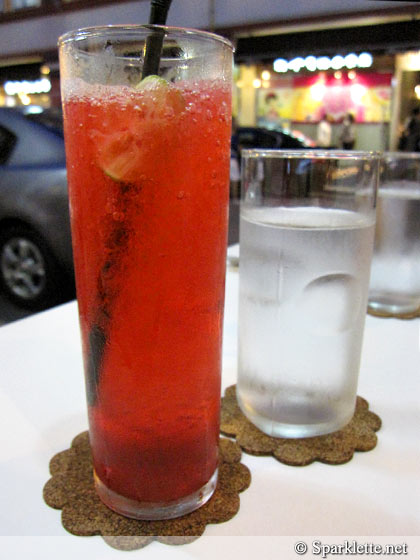 Thai roselle & lime
(
Nam Ga Jeab
)
S$3.90+
Rating:





The roselle & lime is a recommended item on the drinks menu. Served in a tall glass, the sweet and refreshing beverage is a nice reprieve from the succession of spicy dishes we are about to partake. Interestingly, it tastes like Ribena!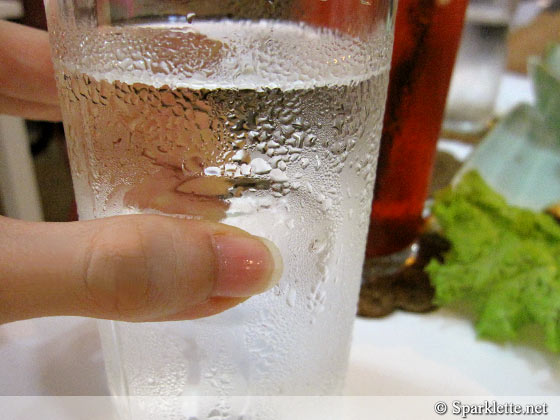 The iced water comes in glasses with two round depressions on the sides so that you can have a firm grip without the sweating glass slipping through your fingers.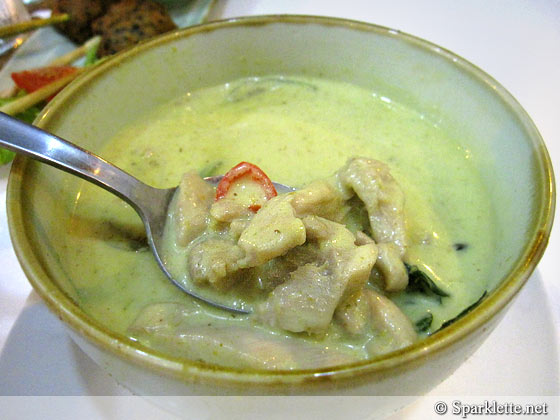 Thai green curry
(
Gang Keaw Wan
)
S$10.90+
Rating:





The green curry chicken is a staple at any Thai restaurant worth its salt. For someone who's a huge fan of this ubiquitous Thai dish, it certainly does not disappoint. It boasts a thick curry gravy that is a perfect balance of sweet and salty, and an ample portion of chicken slices. My only gripe is that the curry is almost not spicy at all, but it is flavoursome enough for one to lap it all up. You never waste a good curry.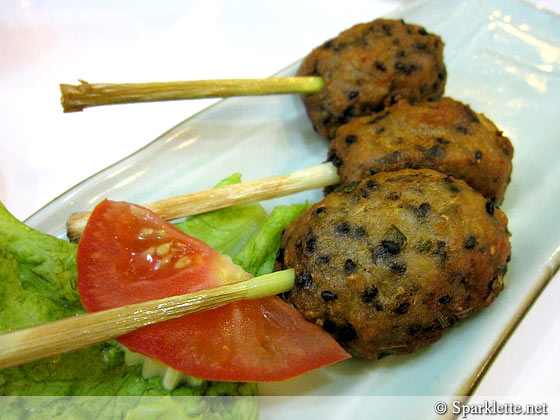 Thai lemongrass chicken
(
Gai Takai
)
S$7+ for 3 pieces
Rating:





The dish that packs less of a punch is the Thai lemongrass chicken. This comprises of three chicken balls skewered and placed on a bed of lettuce. From the picture above, can you tell what's so interesting about these?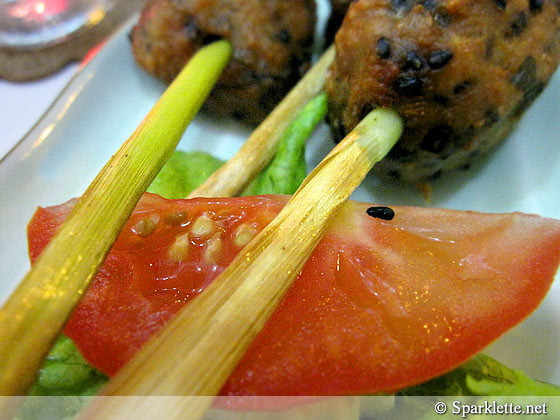 The skewers aren't the usual satay sticks, but the fibrous stems of lemongrass! That's quite creative, don't you think?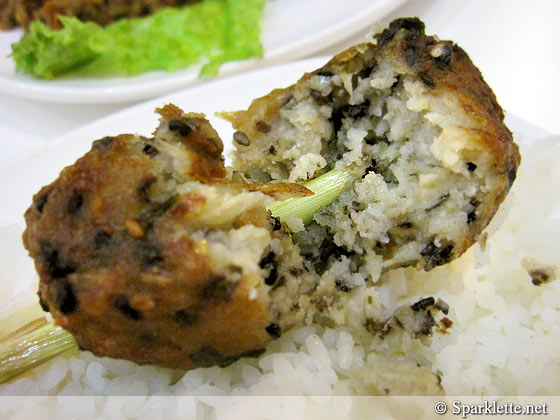 The minced chicken is very mildly flavoured with lemongrass and spices. To make up for the lack in taste, a Thai sweet chilli dip is provided on the side. Overall, this dish is rather forgettable as it lacks the sensory characteristics that make Thai cuisine enjoyable.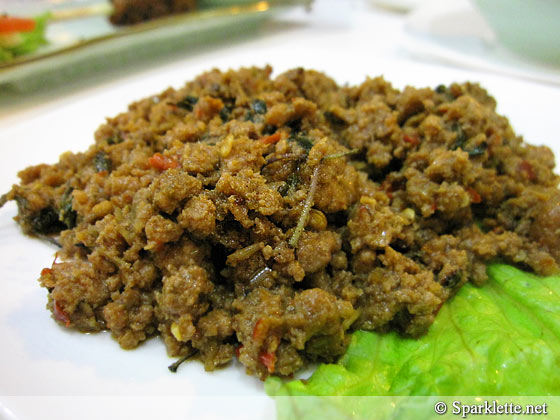 Stir-fried minced chicken with basil leaves
(
Kapow Gai
)
S$8.50+
Rating:





The minced chicken with basil leaves provides mouthful after mouthful of intense flavour. While the presentation clearly needs work and the meat is a little over-fried, I like that it retains the explosive quality of this popular Thai dish. Lerk Thai does a wonderful version of this dish, too.
Now, if you have come to Porn's with the hopes of sighting Pornsak himself, you may be pleased to know that he does pop by. In fact, we spotted him behind the cash register and thanking customers!
Porn's may be drawing in the crowd with its seductive name and star power, but it has proven that it is more than that. For a newcomer, the cooking is commendable. I will plan another visit when the furor dies down. From the looks of the crowd, that won't be anytime soon.
Note: The 7% GST is absorbed in the food prices.
Have Your Say!

Loading ...
Would you pay a visit to Porn's? What are your favourite places for Thai food? Share with us in the comments!