10 More Yummy Lunches You Can Enjoy! – A Reader-Contributed Photo Series
What's for lunch? After checking out the 10 yummy lunches shared by our readers, have you tried out any of them?
Just in case you need more ideas on where to go when you have the munchies, here are 10 more yummy lunches! A big thank you to everyone who graciously shared your lunch photos with us.
So once again, let's have lunch!
---
1. Submitted by Crystal: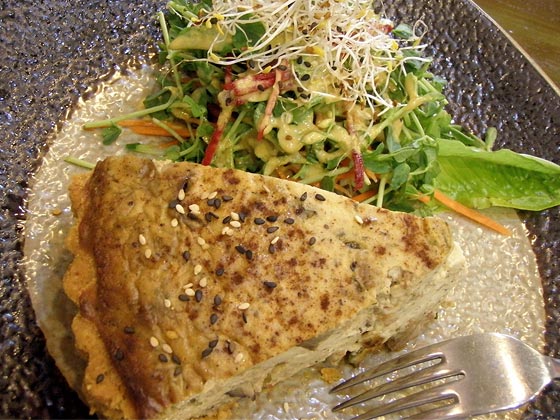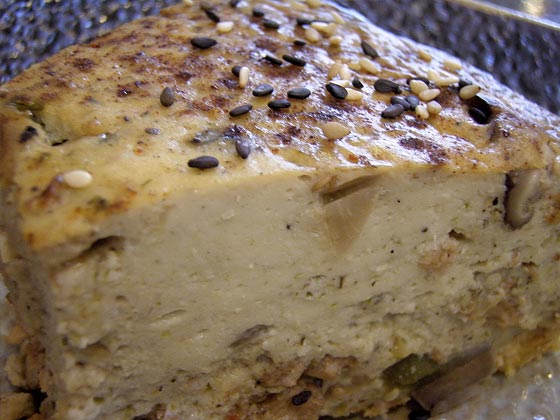 Vegan quiche with salad (organic)
LivinGreens (325 Beach Road)
S$8





Crystal's review
Vegan Quiche with salad is wholesome, creative and delicious and I think it is wheat-, gluten- and dairy-free! It is real impressive and there is so much more on their menu waiting to be discovered.
---
2. Submitted by Shankar Subramanian: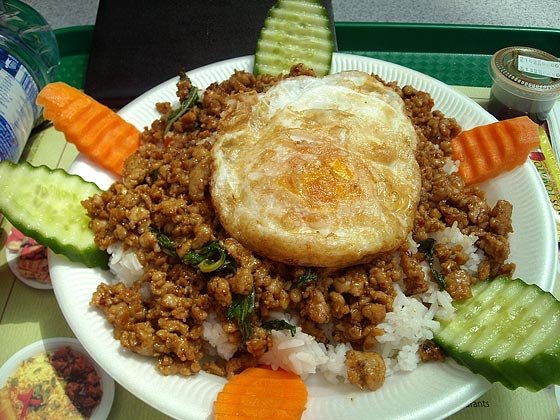 Kao Pad Gkai Pad Gkaprow (spicy basil chicken)
Sala Thai (food court stall at a mall in Dubai)
AED32 (approximately S$12)




It was really tasty
Editor's note: This looks exactly like the fried minced chicken with basil leaves dish at Lerk Thai restaurant in Singapore. We agree that this is a great-tasting Thai dish, one of our staples whenever we visit the restaurant.
---
3. Submitted by Melissa Tan: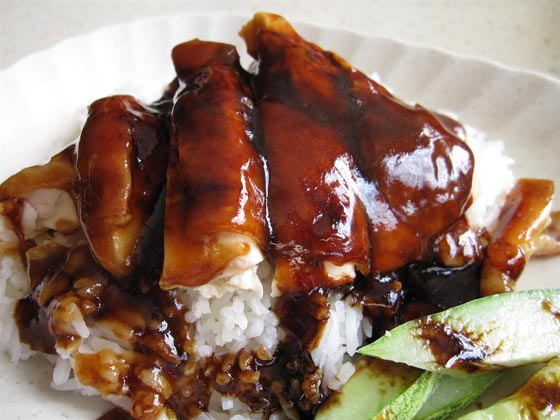 Roasted chicken rice
Lee Hong Kee Roasted Meat (Tiong Bahru Market & Food Centre)
S$2.50
Rating:





Famous for its roast duck and roast chicken. Long queues!
Editor's note: We also recommend the Lor Mee (comes with shark meat fritters), pork rib prawn noodles and Chee Cheong Fun at the same hawker centre.
---
4. Submitted by Mike Chan: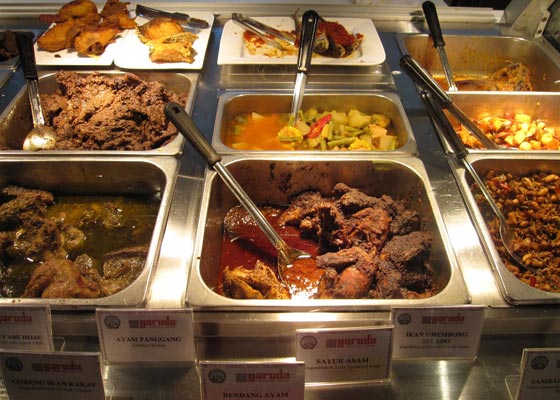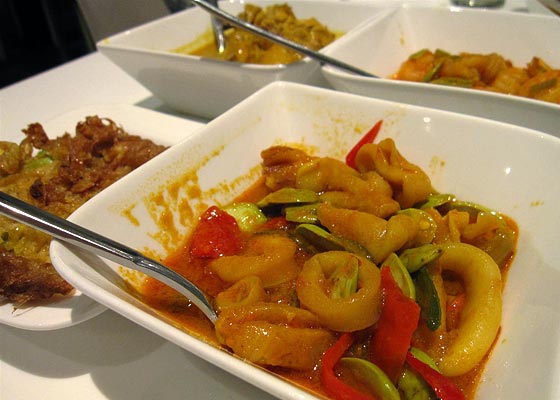 Eat-all-you-can buffet
Garuda Padang

(Orchard)
S$19.80++ for weekday lunch
Rating:





For the buffet, they charge different prices dependent on when you go (lunch, dinner, weekday, weekend). Not much variety, but good for getting a taste.
Editor's note: Hmm. It looks like The Rice Table still remains our favourite Indonesian buffet restaurant.
---
5. Submitted by Sheida Kamarudin: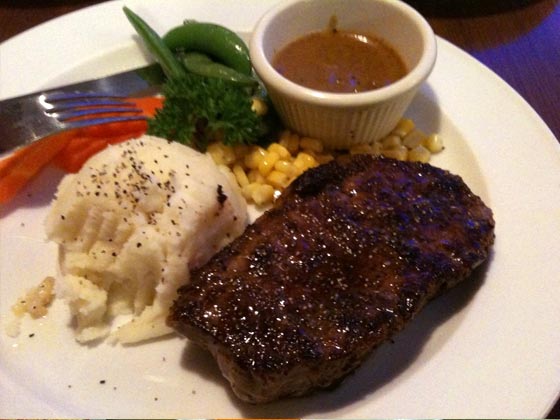 Sirloin steak with black pepper sauce
Swensen's

Rating:





Editor's note: If you're headed to Swensen's, don't forget to take advantage of their 1 for 1 Lunch Treats promotion!
---
6. Submitted by Shankar Subramanian: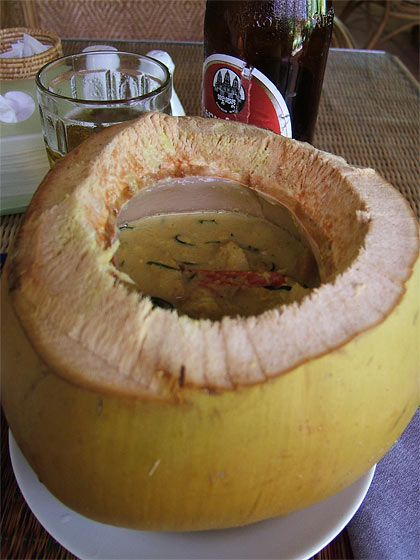 Amok
Two Dragons Guest House (Siem Reap, Cambodia)
USD5
Rating:





This is a close up of the coconut shell contents, i.e. the Amok itself. It's a dish made of fish in coconut milk.
Editor's note: We fell in love with the amok on our trip to Siem Reap last year. See here and here for our reviews of this Khmer delicacy.
---
7. Submitted by Melissa Tan: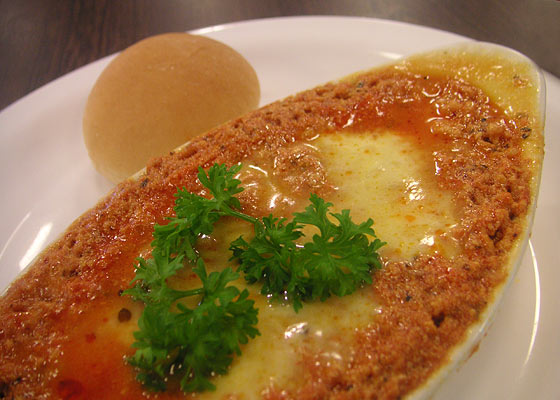 Lasagna
Secret Recipe (Forum Shopping Mall)
Rating:





Thick layer of mozzarella cheese on top.
---
8. Submitted by Chen Yaoming: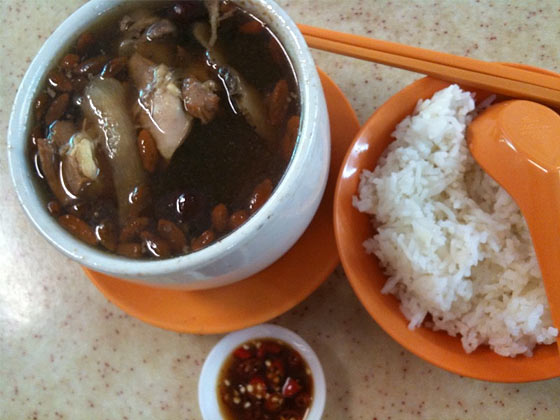 Chicken ginseng soup
Chinatown Complex Food Centre
S$6
Rating:





---
9. Submitted by Siti: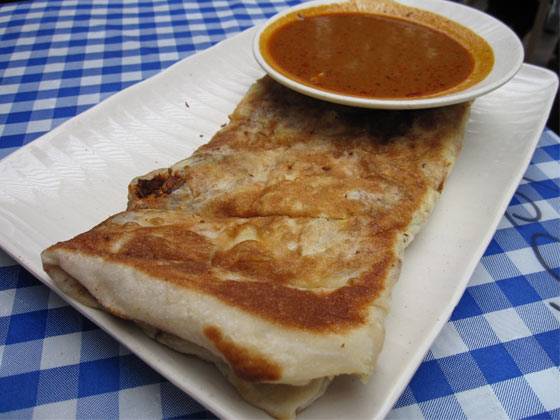 Murtabak mutton
Mr. Teh Tarik Cartel

(Tiong Bahru Plaza)
S$8
Rating:





Editor's note: Mr. Teh Tarik Cartel also happens to be a favourite hangout of ours, especially since the place opens 24/7! Here are our reviews for their drinks and food.
---
10. Submitted by Shankar Subramanian: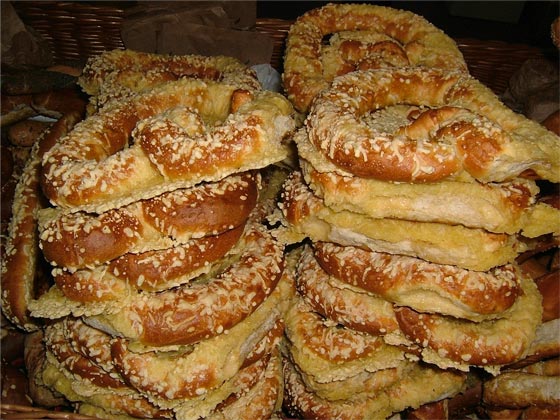 Cheese pretzels
A stall in Frankfurt, Germany
€1 apiece




These are cheese pretzels, plain ones without cheese are available as well. They are fresh and hot when you buy them, they turn rock hard like rusk in a matter of seconds (or as soon as you come out of the heated shop or hall) due to the -5 cold outside.
Want more munchies?
Check out Part 1 with 10 tantalising lunch photos that you can enjoy!